Foreign Secretary calls for Iran to discuss its nuclear programme in detail
Foreign Secretary William Hague emphasised the need for Iran to engage seriously and in detail on its nuclear programme at the E3+3 talks in Istanbul.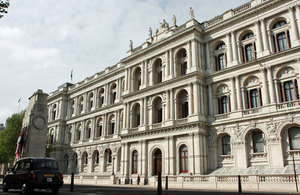 Speaking at a press conference with New Zealand Prime Minister John Key on 21 January, the Foreign Secretary said:
"We've talked about our shared commitment to making lasting progress in Afghanistan, the urgency of further progress in the Middle East peace process and the challenges posed by nuclear proliferation - in particular by Iran's nuclear programme
The next negotiations about that programme are about to begin in Istanbul, and I stress the importance which we attach to those negotiations. It is very important that Iran takes those negotiations seriously, that it is prepared to discuss its nuclear programme in detail.
These negotiations are a test of Iran's willingness to enter into, and to keep to its international obligations under the Non-Proliferation Treaty, and under successive resolutions of the UN Security Council. And it is time for them to show in these negotiations that they are prepared to discuss the whole of their nuclear programme."
The E3+3 countries (UK, US, China, France, Germany and Russia) meet today in Istanbul.
Published 21 January 2011