Foreign Secretary attends service of commemoration for Captain Scott's Expedition
On 29 March the Foreign Secretary attended a service of commemoration for the British Antarctic 'Terra Nova' Expedition 1910 - 1913.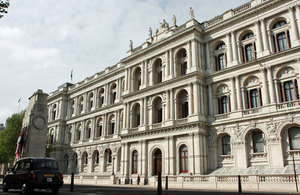 HRH the Princess Royal led the congregation at St Paul's Cathedral, which gathered to pay tribute to the courage and fortitude of Scott and his men and celebrate the scientific legacy of the expedition. The service was attended by many descendants of Scott's team, some of whom laid a memorial wreath at the commemorative plaque to Scott in the cathedral.
The Bishop of London gave the sermon and Sir David Attenborough read from Scott's diary:
"We arrived within 11 miles of our old One Ton Camp with fuel for one last meal and food for two days. For four days we have been unable to leave the tent - the gale howling about us. We are weak, writing is difficult, but for my own sake I do not regret this journey, which has shown that Englishmen can endure hardships, help one another, and meet death with as great a fortitude as ever in the past. We took risks, we knew we took them; things have come out against us, and therefore we have no cause for complaint, but bow to the will of Providence, determined still to do our best to the last. But if we have been willing to give our lives to this enterprise, which is for the honour of our country, I appeal to our countrymen to see that those who depend on us are properly cared for. Had we lived, I should have had a tale to tell of the hardihood, endurance, and courage of my companions which would have stirred the heart of every Englishman. These rough notes and our dead bodies must tell the tale, but surely, surely, a great rich country like ours will see that those who are dependent on us are properly provided for."
A commemorative programme was produced for the service, including forewords from HRH The Princess Royal and The Prime Minister:
In this video descendants of Captain Scott's team and other Antarctic experts talk about the expedition's achievements:
Published 29 March 2012