Foreign Secretary arrives in the United Arab Emirates to discuss joint success
UK Foreign Secretary William Hague arrived in Abu Dhabi this morning for a one day visit to discuss regional developments and key areas of cooperation between the UK and UAE.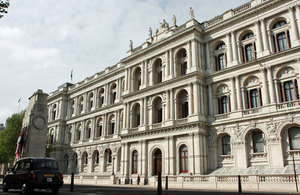 A particular highlight of the visit will be a tour of Al Dhafra Airbase in Abu Dhabi where the Foreign Secretary will have the opportunity to meet Emirati pilots and thank them for their ongoing support to the UK's Royal Air Force.
At the invitation of the UAE Minister for Foreign Affairs, Dr Anwar Gargash, The Foreign Secretary will address a special gathering of UAE diplomats and dignitaries at the Ministry of Foreign Affairs on successes of UK-UAE collaboration over the course of the year.
The Foreign Secretary will also have bilateral meetings with his counterpart, UAE Foreign Minister Sheikh Abdullah bin Zayed al Nahyan, His Highnesses Sheikh Nahyan bin Mubarak al Nahyan, UAE Minister of Higher Education, and Sheikh Hamdan bin Zayed al Nahyan, The President's Representative in the Western Region. These meetings will address several issues of mutual concern including the situation in a number of regional countries such as Afghanistan, Syria and Yemen, the Middle East Peace Process and Climate Change.
Published 20 December 2011