Foreign Secretary answers questions on UK and India's partnership
During his visit to India, Foreign Secretary William Hague answered questions on the UK's relationship with India on issues such as trade and investment, innovation and security.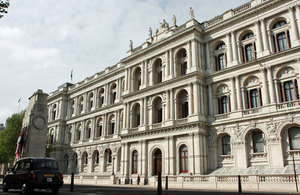 An invitation to ask questions was posted on the Foreign Secretary's and UK in India's Twitter channels. Using the hashtag #fsininida, and limited to 140 characters, the Foreign Secretary selected a sample of questions to answer.
When asked if the UK and India could create a free trade act with 100% foreign investment he answered 'we want a strong EU-India Free Trade Act' and 'Free Trade benefits all - key message from Britain to the world.'
Some questions suggested concern over the ease of investment between the two countries, to which the Foreign Secretary replied 'we are building a deep and strategic dialogue on trade issues, including key businesses.' In an interview with the Sun earlier this week, the Foreign Secretary said 'India has 1.2 billion people, and soon hundreds of millions more, who can buy our goods and services.'
When asked how we can help India make the $35 laptop a reality, the Foreign Secretary said we need to 'deepen our trade, science and research links'.
The Foreign Secretary received some questions on how migration might effect education and investment. In response, he said: 'we need effective immigration controls. We're consulting on how best to achieve them.'
When asked about how Afghanistan and Pakistan relate to the UK's relationship with India, the Foreign Secretary said 'all Afghanistan's neighbours have a role in building a stable future.' In relation to the work required to address terrorism he said 'all countries must work against all forms of terrorism'.
Asked about the UK and India's military and security relationship he replied '[the UK and India are] working for better defence relations including joint exercises'.
A range of individuals asked how the UK's relationship with other countries would be affected as a result of the partnership with India; 'shouldn't we also be building relations with other countries like Brazil? Why India?'
The Foreign Secretary said 'I have just been to China and Japan. And I want a better relationship with Brazil - and others.'
The Foreign Secretary also explained how the UK government is currently reviewing the aid provided internationally and explained that no decisions had been made for the aid allowance for India. He highlighted India's role as a Commonwealth country and said 'Commonwealth memberships should be a source [of] strength and pride.'
Published 29 July 2010