Foreign Secretary answers foreign policy questions on Twitter
Foreign Secretary William Hague answered questions about his first six months at the Foreign Office on 16 December via Twitter.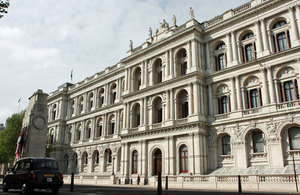 The following questions were put to the Foreign Secretary @WilliamJHague by using the hashtag #foreignoffice.
Q. @BackS00N: RT @cliffsull: #FOREIGNOFFICE -Mr Hague -would you tell us the Foreign Offices stance on Gary #Mckinnon plaese ? #freegary
A. @BackS00N @cliffsull Home Secretary is currently reviewing the Gary Mckinnon case
Q. @curiousc:@WilliamJHague How you feel #wikileaks impacts on the #opendata agenda in the UK ?
A. @curiousc I support internet freedom. But doesn't extend to threatening national security by publishing illegally obtained documents
Q. @HKSkot1@WilliamJHague #foreignoffice was there anything in the Wikileaks material that was genuinely damaging rather than just mildly embarrassing?
A. @HKScot1 Wikileaks confuses need for transparency and accountability with irresponsible attempts to undermine government
Q.@citizen_sane: @WilliamJHague What impact do you think WikiLeaks will have on future UK diplomacy? #foreignoffice
A. @citizen_sane Important diplomats can advise candidly and in confidence. Ours do so and I want them to keep doing it.
Q. @tom5ash:@williamjhague Does defence cooperation with France undermine our relationship with the US or does it increase our influence? #foreignoffice
A. @tom5ash Treaty with France is about practical co-operation to increase military impact - doesnt replace Special Relationship
Q. @manatrue: #foreignoffice @WilliamJHague Are British courts not fit for purpose or is there another reason why #GaryMcKinnon is denied UK justice?
A. @manatrue @wildallison Mr Assange's extradition is rightly a matter for the courts
Q.@FHxoxo: @WilliamJHague what is being improve relations btw UK and Burma, a member of ASEAN, now that Aung San Suu Kyi is free? #foreignoffice
A. @FHxoxo Her release was long overdue. 2,200 other political prisoners remain behind bars. More progress is needed.
Q. @JoeThorpe1963: @WilliamJHague #foreignoffice the only foreign policy anyone that interests people is when will we get a referendum on #EU membership?
A. @JoeThorpe1963 We had a vote after we first joined. Our EU Referendum lock guarentees a popular vote on any further shifts of power
Q. @KevReillyCom: Do u think Julian Assange has risked/claimed any UK lifes with leaks or are you worried of any UK based leaks? #foreignoffice @WilliamJHague
A. @KevReillyCom Leaks can damage national security, and put lives at risk. They are in no one's interest
Q. @KevReillyCom: Do the #foreignoffice intend to use social media (thinking Twitter/Google Latitude type locations) with it's LOCATE system? @WilliamJHague
A. @KevReillyCom We increasingly use social media for consular work & we are considering future options for LOCATE & public registration
Q. @si_smith: @WilliamJHague #foreignoffice William, is the unbalanced UK/US Extradition treaty going to be amended/changed/abandoned?
A. @si_smith We want to ensure that extradition is fair, balanced and in the interests of justice. Independent panel now reviewing
Q. @huwtaylor: @WilliamJHague Do you think that the European Arrest Warrants are being abused? #foreignoffice
A. @huwtaylor I do think there is a problem. The Home Office is reviewing how they work
Q. @benpopkid: @WilliamJHague when will you as foreign secretary make it easier for citizens such as myself to marry a non-EU resident?
A. @benpopkid This is a matter for the Home Office I am afraid. But I wish you all the best in your personal life
Q. @Pol_Hernanz: @williamjhague Your views please on European Citizens' Initiative #ECI, now accepted by #EP. Will it have any actual impact? #foreignoffice
A. @Pol_Hernanz Important to increase connection between people and the EU. If European Citizens Initiative does this, then good thing
Q. @bilalhassam: Question @WilliamJHague #foreignoffice Israel defies international law in building settlements when wil UK do something beyond empty threats
A. @bilalhassam Settlements undermine peace efforts & are illegal. UK acting to help build capacity of future Palestinian state
Q. @greeneyespy: @WilliamJHague #foreignoffice questions: were the #Pakistan floods a result of #climatechange & how important #Brazil to #climate diplomacy?
A. @greeneyespy We're seeing more extreme weather events across the world.Brazil is very important as is Mexico.They did a great job at Cancun
Q. @vickirowlands: @WilliamJHague What are you most proud of achieving/changing/doing since May 2010? #foreignoffice
A. @vickirowlands Starting to build the strategic relations Britain needs for the future and returning FCO to its proper place in government
Q. @WilliamJHague @UKinSriLanka #foreignoffice How would you describe how it has been to work on the relatship between the UK and Sri Lanka?
A. @johnfdrake Constructive meeting with FM Peiris in Oct. Called for lasting political settlement and inquiry on human rights abuses
Q. @MarkThomRees: @WilliamJHague Is Oil & Trade more important when dealing with countries than Human Rights, The Death Penalty & Gay Abuse? #ForeignOffice
A. @MarkThomRees No. Human rights are fundamental to this government - I am improving and strengthening our human rights work
Q. @WeLshRoGs: @WilliamJHague #foreignoffice How much did the foreign office pay for it's Christmas trees? Has it taken a leaf from the Treasury?
A. @WeLshRoGs We spent nothing on Christmas trees in London!
Q. PeterCampbell1: @WilliamJHague who has been the most interesting person you've met so far? #foreignoffice
A. @Petercampbell1 The young Afghan students I talked to in Herat in July
Q. @mikebettison: @WilliamJHague you have a very interesting job but you never tweet anything remotely interesting. Why not? #foreignoffice
A. @mikebettison I suspect those two observations are linked
Q. @KevReillyCom: Do you see Radical Islam in general as more organised than on 9/11? (not necessarily under the brand Al-Qaeda) #foreignoffice @WilliamJHague
A. @KevReillyCom AQ less organised than pre-9.11 but still a deadly threat. We and our partners are committed to reducing it
Q. @lewieashman: @williamjhague what counter terrorism measures are in place to stop what happened in Sweden happen in the UK? #foreignoffice
A. @lewieashman All relevant organisations in UK working together to address threat posed by terrorism
Q. @Chanell 82: @WilliamJHague: what approach will the fco be taking to address corruption in africa's elections and improve governance? #foreignoffice
A. @Chanell82 Improving governance and ensuring fair elections key part of our overseas aid and foreign policy
Q. @mattbjones: @WilliamJHague Has raising human rights concerns with foreign gov's proved harder than you thought, given economic situation? #foreignoffice
A. @mattbjones No. Our diplomats and Ministers raise human rights cases week by week across the world and will continue to so
Published 16 December 2010