Foreign Secretary announces charter plane to Cairo, Egypt
Foreign Secretary William Hague has announced a charter plane for British nationals in Cairo to supplement the commercial flight capacity provided by British airlines to assist British nationals return to the UK.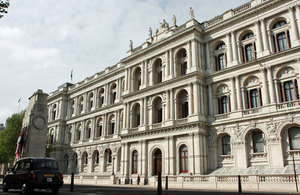 British Nationals who wish to use this service should register with the Foreign Office by calling 020 7008 8765. We have published further information on this service.
Speaking in Parliament today the Foreign Secretary said:
"A huge amount is being done by our Consular staff, by our Embassy, by the Rapid Deployment Team that we have sent to Cairo and we are taking every step possible to assure the safety of those people.
We have been advising people in Cairo or Alexandria or Suez to leave if they can, if they don't have any pressing reason to remain. The vast majority of those seeking to do so have been able to do so on commercial flights. But I've also decided to send a charter aircraft to enable further British nationals to leave the country if they wish to do so. That will set off for Egypt tomorrow and I will send further flights if necessary just to make sure that people are able to leave if they wish to do so. But of course many remain doing their work in Egypt and we should salute the work they are doing."
Published 1 February 2011