Press release
Foreign Secretary announces £300,000 to The Trust Fund for Victims
The Foreign Secretary announced today that the UK will contribute a further £300,000 to The Trust Fund for Victims.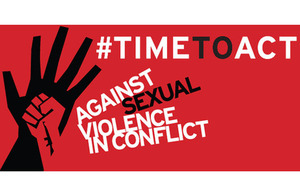 The Foreign Secretary William Hague said:
I am proud to announce today that the UK will contribute a further £300,000 to the Trust Fund for Victims. This will enable the Fund to help survivors of some of the worst atrocities of the past two decades to rebuild their lives and their communities. The UK has now contributed a total of £1.8 million to the Trust Fund since 2011.

Recipients of the Fund include survivors of acts of sexual violence committed in conflict. I am determined that the international community does more to hold the perpetrators of these crimes to account. But we must also all do more to help the survivors of these abhorrent crimes. I have already called for more support, including to the Trust Fund, from some of the world's leading economies at the G8 meeting in April. I will repeat this call at the international summit on sexual violence in conflict that I will host in London next year.
Further information
The annual meeting of all ICC States Parties begins tomorrow [20 November] in The Hague. A special plenary session will focus on victims.
The Trust Fund for Victims (TFV) was established by the Rome Statute in 2004 to support victims, and to help build lasting peace and reconciliation in war torn societies. It provides material support, physical and psychological rehabilitation to victims and communities in situations where the International Criminal Court is active. The TFV has 31 active projects (in Uganda and DRC) providing assistance to help victims rebuild their communities, supporting and empowering victims of sexual violence, supporting victims of torture, and supporting children.
Addressing sexual violence is a key part of TFV with most projects incorporating gender specific interventions.
The TFV is funded by voluntary contributions from donors. Since 2011 the UK has contributed £1.8 million.
The Preventing Sexual Violence Initiative was launched in May 2012. In April 2013 the G8 endorsed a Declaration to End Sexual Violence in Conflict and in September 135 countries endorsed the Declaration of Commitment to End Sexual Violence in Conflict, which was launched at the UN General Assembly. The UK is now working with international partners to turn the commitments contained in these two declarations into practical implementation and action in conflict affected countries. The UK will host an international summit on sexual violence in conflict next year.
Further information
Follow the Foreign Secretary on twitter @WilliamJHague
Follow the Foreign Office on twitter @foreignoffice
Follow the Foreign Office on facebook and Google+
Published 19 November 2013