Foreign Secretary and Minister for Europe in Brussels
Foreign Secretary William Hague, and Foreign Office Minister for Europe David Lidington are in Brussels to attend the General Affairs Council and Foreign Affairs Council meetings.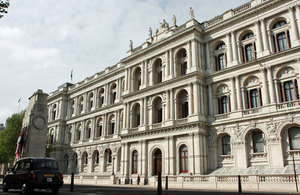 Sudan, Gaza, Balkans and the Iran sanctions are on the agenda for the Foreign Affairs Council. The Belgian Presidency programme, Iceland and the June European Council are on the agenda for the General Affairs Council.
The two meetings are held on a monthly basis. The General Affairs Council (GAC) deals with issues such as EU enlargement, the coordination of work on selected policy areas and preparations for meetings of the European Council. The Foreign Affairs Council (FAC) tackles EU external action, foreign and security policy, trade and international development.
Published 26 July 2010