News story
Foreign Office website moves to GOV.UK
The Foreign Office will be publishing its news and policy on GOV.UK, the new place to find government information.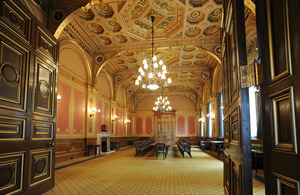 From this Thursday the Foreign Office is publishing its news, speeches, policy, publications and corporate information on GOV.UK – the single home for all government services and information.
Our travel advice and consular information, and our Embassy and High Commission websites will follow by March 2013.
Our new web address is www.gov.uk/fco.
Topics and policies
FCO information will be in the "Inside Government" section on GOV.UK, alongside information from other government departments.
An advantage of being on gov.uk is that you can now see information from multiple government departments grouped by topics or polices. The FCO's policies are listed under foreign affairs and Europe but we've also contributed policies to topics like 'Establishing stability in Afghanistan'.
For each policy you can see a list of all the related announcements, consultations and publications in one list, called 'activity'. This makes it easy for you to track what is happening on the policies that interest you, for example all government activity that relates to, 'Working for peace and long-term stability in the Middle East and North Africa'.
News and Speeches
Our news and speeches will appear under Announcements. You can search by department or by topic. You can subscribe to email alerts or set up your own RSS feed. Our embassies and high commissions will continue to publish their own local news on their websites.
Digital Strategy
Our move to GOV.UK is only part of what we're doing to improve our presence online. Later this month we will also be publishing the FCO's Digital Strategy setting out how we plan to use digital in our service delivery and broader diplomatic work.
Published 11 December 2012