Foreign Office urges British nationals to take care on balconies in popular holiday hotspots in Spain
Two young Britons have already been seriously injured this summer after falling from balconies while on holiday in Spain, the Foreign Office has warned - on top of four fatalities and a total of 18 falls across the country last year.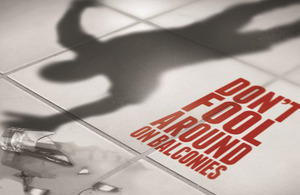 The alarming figures have prompted the Foreign & Commonwealth Office and ABTA – The Travel Association to warn young Brits heading off on holiday this summer of the dangers of misbehaving on balconies. Many falls involve alcohol, and the latest incidents highlight the need for particular care in popular destinations such as and Magaluf in Mallorca and San Antonio in Ibiza, where recent incidents have taken place.
Andrew Gwatkin, British Consul General who oversees the Balearic Islands said:
I urge young people to take care on holiday and avoid jumping from balcony to balcony or climbing back into their room after a night out. Most falls are accidents that often follow the consumption of alcohol, and which can and do cause serious injury or even death. Drinking may well also invalidate your travel insurance, potentially costing you thousands of pounds if you need medical repatriation.
Some falls are the result of "balconying" - deliberately jumping from a balcony into a swimming pool or from one balcony to another. Such pranks can end in the grief of a bereaving family when their loved one dies.
Our staff see the devastating effects of a momentary lapse of judgement and the impact on the victim and their family. The message is: holidays are a time to relax and have fun but please don't leave your common sense at home, think of the potential consequences of your actions.
Jake Evans and his family provide a harsh reminder of just how wrong things can go when he fell seven floors after slipping over the edge of his balcony. A short video of his story can be found here on You Tube.
For more information, visit here. To keep up to date with the latest travel advice, follow: us on Facebook or Twitter.
Published 1 July 2013