Foreign Office takes part in 10:10:10 global day of climate action
British embassies across the globe hosted events to mark 10 October 2010 as a global day of action on climate change.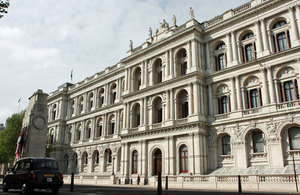 Nearly 70 embassies, high commissions and consulates signed up to the 10:10 campaign this year, pledging to cut their emissions by 10% in 2010. 10:10:10 was a day for supporters to celebrate their successes and take practical action to cut carbon.
The Foreign & Commonwealth Office (FCO) network took the opportunity to engage local audiences; schools, celebrities, governments and local authorities with a range of events. Use this map to find out what happened across the FCO network or view the map in full size.
View Larger Map
Below is just a selection of the activities that took place across the world.
Argentina: The embassy took part in online webchats with other Latin American & Caribbean British embassies. The chats were hosted in Spanish and English and included journalists and school children. The embassy was the first international organisation to meet their 10:10 target.
Chile: 'What does the British Embassy in Santiago have in common with the Institute of Psychoanalysis, Colin Firth and Tottenham Hotspurs? They've all signed up to the 10:10 initiative.' Pablo Retamal in Santiago, Chile, dedicated his blog to 10:10:10.
France: The British Embassy in Paris organised a series of video interviews to highlight key issues on the theme of science, green growth and energy.
Hungary: The British Embassy in Budapest, Hungary, hosted a climate themed football match involving Olympic sportsmen, climate change scientists and researchers.
Republic of Korea: The British Embassy in Seoul took part in a bike ride to promote alternative modes of transport.
Malaysia: The Green Team of British High Commission in Kuala Lumpur, Malaysia took part in a tree planting session at the Raja Musa Forest Reserve.
The Netherlands: Paul Arkwright, British Ambassador to the Netherlands, blogged on the British Embassy's cycle to work day, which saw a colleague cycle 63 km to get to the office.
United Kingdom: Representatives from the Climate Change and Energy Group in London and FCO posts around the world took part in an online seminar with 10:10 campaigner Harriet Bell to share ideas and get inspiration.
Although 10:10 is a voluntary worldwide campaign, the FCO has a formal responsibility, issued by Prime Minster David Cameron, to cut carbon emissions from its UK Estate by 10% during 2010. This is a Whitehall wide initiative which all government departments are required to participate in.
Published 11 October 2010