Foreign Office Spending Review settlement ensures UK maintains its global reach
The Chancellor George Osborne today outlined the Spending Review 2010 which determines Government spending over the next four years. The Foreign Office settlement ensures the FCO plays its role in deficit reduction.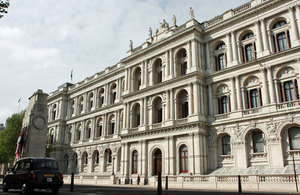 Foreign Secretary William Hague said:
''Reducing the huge deficit left by the last government is essential to getting Britain back to recovery. This settlement ensures the Foreign Office will play its part, while also maintaining our global reach and forging a distinctive British approach to foreign policy. The FCO's global network is key to building our prosperity and to strengthening our security, as set out in the National Security Strategy earlier this week.
''The settlement also overturns the last government's disastrous decision to end exchange rate protection for the Foreign Office budget. That change led to a 10% fall in FCO spending, with our foreign policy determined by exchange rate fluctuations, not a serious assessment of Britain's place in the world.
''The BBC World Service and British Council are and will remain fundamentally important parts of Britain's presence in the world. The transfer of BBC World Service funding to the Licence Fee in 2014-15 will enhance and safeguard the World Service's vital role, allowing the BBC as a whole maximum scope to exploit efficiencies while also maintaining clear safeguards for BBC World Service funding and impartiality.''
Over the course of the Spending Review period the Foreign Office will see a 24% real terms reduction in the resource budget, and a 55% real terms reduction in capital spending. The Department's administration budget will be reduced by 33%.
The settlement provides for an increase in the FCO's Overseas Development Assistance (ODA) spending to help meet the Government's commitment to dedicating 0.7% of Gross National Income to ODA by 2013 - the FCO's contribution to UK ODA spending will increase from around 2% in 2010/11 to around 2.4% in 2011/12.
The settlement also continues to provide grants to both the World Service and the British Council, though at a reduced level. From 2014-15 the BBC World Service will be funded by the BBC, but the Foreign Secretary will retain his veto over any decisions to cut language services.
Once the additional resources from the BBC are taken into account the rest of the FCO budget will only fall by 10% over the period.
Spending Review in full
The Government has prioritised its Spending Review decisions to support growth, fairness and public sector reform. Read the Spending Review in full on the HM Treasury website.
Watch a video following Chief Secretary to the Treasury, Danny Alexander, explaining the delivery of the Spending Review settlements.
Published 21 October 2010