Foreign Office sets out support for British nationals overseas
The Foreign Office has published a new guide which contains full details of how the Foreign Office can provide support to British nationals when things go wrong abroad.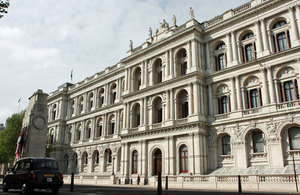 The new publication, called Support for British nationals abroad: A guide contains for the first time a written Customer Charter which sets out the Foreign Office's commitment to providing a high level of service. The guide also provides:
clearer and updated information for those affected by a crisis abroad
clearer information on how the FCO can assist people with mental health problems
clearer explanations of why the FCO cannot help in certain situations
The Foreign Office has also launched new support and assistance measures for families of people who have died in suspicious circumstances overseas. Nearly 6,000 British nationals die abroad each year and around 60 of those are the victims of a murder or manslaughter.
The Foreign Office is working in partnership with the Victim Support National Homicide Service to ensure that families get the practical support they need to deal with the added trauma, complications and costs when a British national is murdered abroad.
To help families cover the exceptional and additional costs if a murder occurs overseas, the Foreign Office is providing a £100,000 grant to Victim Support to commission services on behalf of bereaved families, if needed. This will enable them to expand the range of services they can provide to bereaved families such as travel costs, translation and interpreting services and repatriation costs.
BR>
Minister for Consular Affairs Jeremy Browne said:
"Dealing with the death of a family member who has been murdered abroad can be an extremely traumatic experience. I have met the families of victims and decided that the FCO could improve its service to help people in these terrible circumstances. I am pleased to announce that we are now providing more practical and emotional support for families bereaved by a murder abroad and are working closely with the Victim Support's National Homicide Service to improve the assistance available."
Chief Executive of Victim Support Javed Khan said:
"We know through our homicide service the devastating impact that losing a loved one through murder or manslaughter has. In cases where the death has occurred in a foreign country, the bereaved not only face coming to terms with losing a loved one, but navigating their way through a different legal system. In common with deaths in the UK, the families also require emotional and practical support. This can include assistance with bringing their loved one home, financial assistance, translation of documents and travel to the country to attend the trial. We are pleased to be working with the Foreign Office so we can do more to ensure those bereaved by a murder abroad get the help and support they need."
The needs of families bereaved by a murder or manslaughter abroad were highlighted in a recent report by the Victims' Commissioner Louise Casey.
A bereaved family will incur exceptional and additional costs if the murder occurred overseas. These costs can include translation of documents, interpretation at meetings or a trial, repatriation of a body, travel costs. In September 2011 the FCO finalised arrangements to provide a £100,000 grant for Victim Support to commission services like this on behalf of bereaved families, if needed.
How the Foreign Office can help in the case of a British national dying abroad in suspicious circumstances:
offer support and information to families travelling abroad following a murder or to attend a trial.
provide more practical support where we judge a need e.g. in a country where the legal system is very different to in the UK or where the family does not speak the local language, FCO staff can help arrange and attend an initial round of meetings with authorities.
accompany the bereaved to their first day of a trial and verdict.
lobby where we judge a local delay or decision creates significant distress for the bereaved, ensuring that we do not interfere in the investigation or judicial processes in that country
Published 23 September 2011