Foreign Office publishes review on release of colonial documents
A review into why a large collection of files from former British territories had not been placed in the public domain has been published.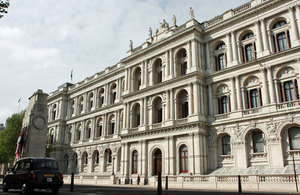 In a written statement to Parliament the Foreign Secretary said:
As a result of searches in connection with a legal case brought by Kenyan Mau Mau veterans, the Foreign and Commonwealth Office in January became aware of the significance of a large collection of files sent to the United Kingdom from various former British territories generally at the time of their independence.
I commissioned an internal review to establish why the files had not already been dealt with in accordance with the Public Records Act 1958. That review was undertaken by the former British High Commissioner to Canada, Mr Anthony Cary. I have today deposited in the Libraries of both Houses the findings of that investigation. The report is critical of past management practices but pays tribute to the professionalism and commitment of current FCO staff, who have done much to bring the material to light. I fully endorse that tribute. The report makes a number of recommendations regarding information management at the FCO and I am committed to ensuring their full implementation.
I believe that it is the right thing to do for the information in these files now to be properly examined and recorded and made available to the public through the National Archives. This will be taken forward rapidly. Given the size of the archive the process may take some time to complete in full. It will be overseen by a senior and independent figure I shall appoint. I will inform the House further once details of the appointment and terms of reference are decided. It is my intention to release every part of every paper of interest subject only to legal exemptions.
Foreign Office officials have briefed the governments of those former British territories who may have an interest.
Published 5 May 2011