Foreign Office Minister's statement on coach crash in France
Following the fatal coach crash in northern France this morning, Foreign Office Minister Alistair Burt said that "we will continue to assist both those who were on the coach and their families and friends at this difficult time."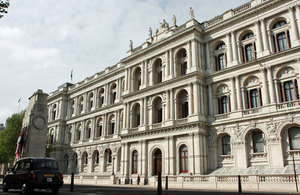 "Our thoughts and sincere condolences are with everyone involved in or affected by the tragic coach crash in Northern France earlier today. The French authorities are investigating the accident and we are working closely with them.
"Our Ambassador to France, Sir Peter Ricketts, has seen many of the affected passengers this afternoon and has assured them that we are doing all we can to help them recover and get home. The Deputy Ambassador will be accompanying some British Nationals on their journey home today.
"The FCO has been operating a reception centre in France and a UK helpline all day and we will continue to assist both those who were on the coach and their families and friends at this difficult time. I would like to thank the French emergency services for all they have done."
Published 19 February 2012