Foreign Office Minister welcomes the UN General Assembly's Third Committee resolution on the human rights situation in Burma
The UN General Assembly 3rd Committee today adopted the resolution on human rights in Burma.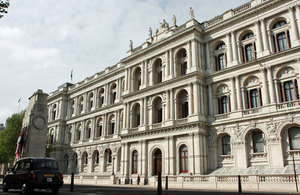 Welcoming the resolution, Hugo Swire MP, said:
"I welcome the adoption of this resolution on the human rights situation in Burma by the UN General Assembly. The reforms underway in Burma are encouraging. It is only right that this resolution reflects the areas in which the Burmese government have made progress. These include: the holding of parliamentary by-elections, increasing space for political activities, easing restrictions on assembly and the media, the continuing release of political prisoners and the government's efforts to put an end to ethnic conflict.
"It is also important that we recognise the challenges ahead. Despite further releases, there are still a significant number of political prisoners in jail. Ethnic conflict in Kachin State continues. The violence that erupted in June between communities in Rakhine State has again drawn attention to the plight of the Rohingya community. It is important that the government takes the steps outlined in this resolution to address these issues.
"It is significant that this resolution passed by consensus. This is a welcome development and represents a clear commitment by the Burmese Government that they will work with the international community to resolve the remaining human rights issues of concern.
"The UK will continue to support those in Burma who are committed to establishing freedom, democracy and the full respect for human rights for all of Burma's people".
Published 26 November 2012