Foreign Office Minister welcomes progress on Arms Trade Treaty
"A global Arms Trade Treaty has the potential to prevent human rights abuses, reduce conflict and make the world a safer place" said Foreign Office Minister Alistair Burt.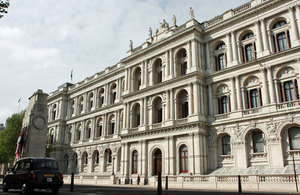 Speaking today the Foreign Office Minister said:
"Today in New York the UN will conclude the next stage of negotiations towards a new global Arms Trade Treaty. The UK already operates one of the most stringent defence export control systems in the world, and securing a global Arms Trade Treaty is a priority for the Government. It forms part of the Coalition's Programme for Government and of the Strategic Defence and Security Review.
Events over the past few weeks have underlined the importance of ensuring that defence exports are subject to careful scrutiny. The right to provide for a nation's self defence is enshrined in the UN Charter, but countries also have a responsibility not to misuse the weapons they receive for the repression of their own people. It is extraordinary that we have regulations and international standards governing everything from trade to air travel, but we have no common internationally agreed standards for the export of military equipment.
In his speech on Britain's values in a networked world, the Foreign Secretary cited the Arms Trade Treaty as an example of how human rights and the promotion of British values are at the centre of all the government's work to improve our security and prosperity in the world.
A robust and effective Treaty is important for Britain as well as her international partners. A global regulatory system will help to reduce conflict, preserve regional peace and security, and stop the flow of weapons into the illicit market. It will also be of direct benefit to Britain's national security and prosperity by preventing arms from getting into the hands of terrorists and insurgents who would use them against our troops and our civilians.
It will also create a more level playing field for the British defence industry to do business and be competitive in the global defence market, as well as helping to sustain a viable industrial base in the UK.
At this week's meeting in New York, detailed discussions took place on the scope, criteria and parameters of the Treaty, as well as its wider implications. The British delegation continued to play a leading role to ensure that we sustain the momentum ahead of the 3rd PrepCom in July and the critical UN Diplomatic Conference in 2012. This week real progress was made on developing the shape and content of the Treaty. We will continue to engage actively with our international partners, including those countries who have expressed reluctance to sign up to the Arms Trade Treaty, civil society and the UK defence industry as the UN process moves forward.
A global Arms Trade Treaty has the potential to prevent human rights abuses, reduce conflict, and make the world a safer place. Britain remains deeply committed to providing the international leadership and support that is required to forge the consensus that will make the global Arms Trade a reality"
Published 4 March 2011