Foreign Office Minister welcomes progress in the UN negotiation of an Arms Trade Treaty
Foreign Office Minister Alistair Burt has commented on the United Nations Preparatory Committee meeting which concluded today in New York.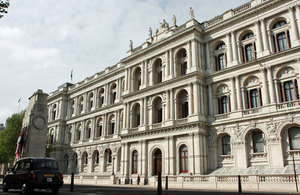 He said:
"The final substantive Preparatory Committee meeting on an Arms Trade Treaty (ATT) concluded in New York today. Securing a global Arms Trade Treaty remains a priority for the UK, and this meeting has been another important step towards achieving that goal.
"A robust, legally binding Treaty is important for both Britain and the international community. It will improve the regulation of international trade in conventional arms, helping to stop the flow of weapons to the illicit market.
"An Arms Trade Treaty will help to maintain Britain's security by reducing conflict and preventing arms reaching terrorists and insurgents who would use them against our troops, and those of our allies. It will promote British values by ensuring a respect for human rights and international humanitarian law.
"The Treaty will also support Britain's prosperity, and has the support of the UK defence industry. By creating a level playing field for industry to operate on, it will enhance their competitiveness in the global market.
"This week's meeting at the UN showed, once again, the strong will and desire of the international community to achieve an Arms Trade Treaty.
"The joint P5 statement sent a significant positive political message in support of the process. Substantial progress was made on issues around the implementation of the final Treaty, with the UK continuing to play a lead role.
"The crucial UN Negotiating Conference will take place in the summer of 2012. The UK wants to see agreement of a robust and effective ATT in 2012, and we will be working hard in the coming months towards that goal."
Published 15 July 2011