Foreign Office Minister welcomes Commonwealth Eminent Persons Group call for feedback
Minister for the Commonwealth Lord Howell welcomed the important work of the Eminent Persons Group as they invite comments on their recommendations to sharpen impact and strengthen the Commonwealth.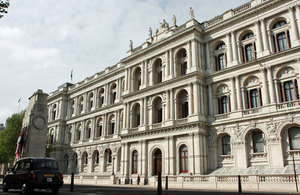 He called on all Commonwealth members to comment on their draft recommendations to help the Commonwealth achieve its potential.
The Eminent Persons Group (EPG), established in November 2009, is mandated to explore and recommend ways of raising the Commonwealth's profile and to ensure it remains relevant to all its members. It will report to Commonwealth Heads of Government at their next meeting, to be held in Perth in October.
Paying tribute to the hard work of the group, the Minister said:
"I warmly welcome the vital work of the EPG and congratulate them on the direction they have set for their influential report.
The UK has strongly supported the EPG process, and believes that this year's Commonwealth Heads of Government Meeting (CHOGM) in Perth has the potential to transform the Commonwealth into one of the major international networks of the 21st century world.
I have this week briefed our High Commissioners on the work of the EPG, the great potential of the Commonwealth and its networks as a force for good for all its members and highlighted the opportunities that CHOGM presents as an influential global meeting.
It is right that the EPG process is a public one which stimulates debate about the role of the Commonwealth in modern conditions. I urge all parties with an interest in the Commonwealth to study the outline of the EPG's report and to actively feed in their thoughts on how we can realise the incredible potential of this unique organisation."
Further details on their draft recommendations and the feedback process can be found on the Commonwealth Secretariat website.
Published 12 May 2011