Foreign Office Minister visits the Holy See
Baroness Anelay, Minister of State at the Foreign & Commonwealth Office, will visit the Holy See on 3 December 2014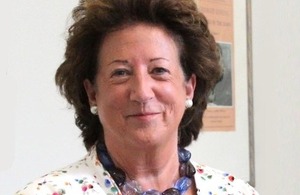 The visit will mark the centenary of the re-establishment of diplomatic relations between the United Kingdom and the Holy See.
Baroness Anelay will attend the celebratory Mass at the Papal Basilica of St Paul's Outside the Walls, presided by the Cardinal Secretary of State, His Eminence Cardinal Pietro Parolin.
During her visit, Baroness Anelay will hold talks with senior Vatican officials and others from the Holy See network discussing freedom of religion, the persecution of Christian minorities in the Middle East, modern slavery, and wider human rights and international development issues, including the post-2015 international development agenda, and global climate change negotiations.
Baroness Anelay said:
I am delighted to represent Her Majesty's Government on in this important anniversary. Relations between the United Kingdom and the Holy See have developed enormously since 1914.

The visit of Benedict XVI to the UK in 2010 and HM The Queen's historic meeting with Pope Francis in April this year are the most recent highlights. The visit is an important occasion to further strengthen the UK's engagement with the Holy See on a range of issues of mutual concern, and to consider ways in which our networks might work more closely together, from human trafficking and freedom of religion and belief, to wider human rights issues and international development
The Baroness Berridge of the Vale of Catmose, Chair of the All Party Parliamentary Group on Freedom of Religion and Belief, was also part of the official delegation.
Note for editors:
Published 3 December 2014