Foreign Office Minister visits Middle East to urge de-escalation
Minister for the Middle East Alistair Burt has arrived in Israel on a three day visit to Israel and the Occupied Palestinian Territories.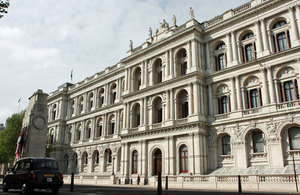 Minister Burt will meet with senior Israelis, including Foreign Minister Lieberman and Deputy Prime Minister Meridor, and senior Palestinians, including President Abbas and Prime Minister Fayyad, to discuss how to bring an urgent end to the current conflict.
Today he visited Kiryat Malachi in southern Israel to see first-hand the terrible impact of the rocket that hit a residential building last week and killed three Israeli civilians. He spent time with one of the bereaved families, met Mayor Moti Malka, and was briefed on the on-going rocket attacks from Gaza. Tomorrow, the Minister will be briefed by the United Nations and a range of international NGOs on the humanitarian situation inside the Gaza Strip.
Commenting on his visit, Minister Burt said:
"I am gravely concerned about the current crisis, particularly the loss of civilian life on both sides.
"Today I have seen for myself the impact of this conflict, and the terrible toll and suffering it is inflicting on families and communities across Israel. Coming here has given me a sense of what life is like for people under attack, and the appalling devastation that rockets attacks bring. The people in villages, towns and cities across Israel have the right to live without the constant fear of rocket attacks. I look forward to speaking tomorrow to President Abbas to discuss the human impact of the conflict in Gaza, where rising numbers of civilian casualties are a real cause for concern.
"The UK calls on Hamas, who bear principal responsibility for starting this round of violence, to stop the rocket attacks. Doing so would bring the violence most quickly to an end. But there are also responsibilities on Israel and, as the number of casualties in Gaza increases, we continue to urge Israel to do all it can to de-escalate the situation, to minimise civilian casualties, and to give mediation efforts a chance to succeed. The Prime Minister has spoken to the Egyptian President and the Foreign Secretary has spoken to the Egyptian Foreign Minister to offer our full support for their efforts to mediate a ceasefire. A terrible price is being paid by civilians on both sides and we want an end to the violence as quickly as possible. It reinforces my belief in the urgency of working towards a comprehensive Middle East settlement."
Published 19 November 2012