Foreign Office Minister visits Bermuda
Minister for the Overseas Territories Henry Bellingham is visiting Bermuda .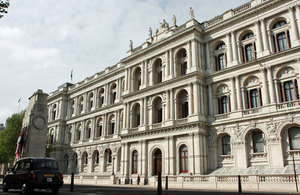 This will be the Foreign Office Minister's first visit to Bermuda.
While in Bermuda the Foreign Office Minister will give a keynote speech on the UK Government's strategy towards the Overseas Territories. His visit coincides with the launch of a consultation process with all the Overseas Territories in preparation for the publication of a White Paper on the Territories in 2012. He will set out the UK Government's vision for the Territories as vibrant and flourishing communities, retaining aspects of their British identity. He will also speak about Bermuda's successes and challenges and its role as the oldest and most populous of the Overseas Territories.
Foreign Office Minister Henry Bellingham says,
"I am looking forward to my visit to Bermuda next week. As my first visit to the territory and the first trip by a British Minister since 2008, this will be an important opportunity to re-emphasise the strength of the UK's relationship with the largest and most successful overseas territory.
My visit comes at an important time for Bermuda, and the overseas territories as a whole, with the launch of the consultation on the strategy for the Overseas Territories.
I believe that the Premier and the people of Bermuda can play a leading role in developing the strategy and I look forward to discussing how we can shape Britain's future relationship with the Overseas Territories."
During his visit he will meet the Premier and Cabinet, the Opposition and other senior politicians and officials. He will see firsthand how the Bermuda Police Service and the Bermuda Regiment work together on maritime patrol operations and meet some of Bermuda's 2012 Olympic and Paralympic Games aspirants. Foreign Office Minister Henry Bellingham will also take the opportunity to learn more about both the international business sector and the tourism industry in Bermuda.
Published 26 September 2011