Foreign Office minister urges Bahrain to increase pace of reform
Minister of State Lord Howell met the Bahraini Minister for the Interior, Lieutenant General Sheikh Rashid bin Abdullah Al Khalifa to discuss the implementation of reforms in Bahrain and the prospects for political dialogue.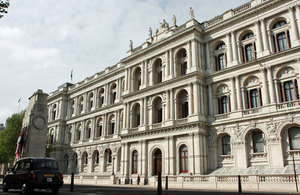 Following the meeting, Lord Howell said:
"The Bahraini Government has made some progress in addressing the recommendations of the Independent Commission of Inquiry, but wider concerns still need to be addressed. I urged the Government to increase the pace of reform and ensure that the human rights of all Bahraini citizens are fully respected. For the long-term stability of the country, I encourage all parties to enter into an inclusive and constructive political dialogue without preconditions.
"The Kingdom of Bahrain and the United Kingdom have a long friendship and we remain strong partners in the region. The UK stands ready to assist Bahrain as it moves ahead with comprehensive reform."
Published 27 June 2012