Foreign Office Minister updates Parliament on the situation in Egypt
Minister for the Middle East and North Africa Alistair Burt has updated Parliament on the consular and political situation in Egypt.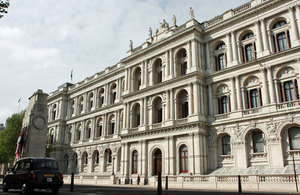 In a statement to Parliament the Foreign Office Minister said:
"With your permission Mr Speaker I would like to make a statement on the situation in Egypt
May I first on behalf of the Secretary of State apologise for his absence today, the House may be aware that he is attending a Foreign Affairs Council today where this issue is at the top of the agenda.
Whilst the calls for political reform have been peaceful, general unrest has become increasingly dangerous with elements of violence leading to lawlessness in some areas of major cities such as Cairo, Alexandria and Suez. Severe restrictions on freedom of expression, including closure of both internet access and mobile phone services, have only fuelled the anger of demonstrators. We have called on the Egyptian authorities to lift these restrictions urgently.
I am sure the House will join me in expressing our deepest sympathies to all those affected by the unrest in Egypt, including the families and friends of those who have been killed and injured. Casualty figures remain unclear but it is estimated that at least 100 people have died. On Saturday the Army took over responsibility for security in Cairo. The army's role has, so far, been welcomed by protestors.
Our aim throughout these events has been to ensure the safety of British nationals in Egypt and to support Egypt in making a stable transition to a more open, democratic society.
Let me turn first to consular issues.
There are an estimated 20,000 British tourists in Egypt, the majority of whom are in the Red Sea resort of Sharm el Sheikh where, according to our latest information the situation remains calm. We estimate there are a further 10,000 British nationals in the rest of Egypt.
On Friday 28 January we changed our travel advice to 'all but essential travel' to the cities of Cairo, Alexandria, Suez and Luxor due to the severity of demonstrations there. On Saturday 29 January, we heightened our travel advice further to recommend that those without a pressing need to be in Cairo, Alexandria and Suez leave by commercial means where it was safe to do so. Those in Luxor are advised to stay indoors wherever possible. A daily curfew remains in place throughout Egypt from 3pm to 8am.
Cairo airport is open, but has been operating under considerable difficulties. The situation was particularly difficult yesterday but our Ambassador in Cairo reports that it has eased a little today. Flights are operating, but are subject to delays or cancellation. The majority of British nationals have been able to leave Cairo airport today. We estimate that around 30 British nationals will remain at the airport overnight, to depart on scheduled flights tomorrow. The situation also appears to be improving in Alexandria, with road access to the airport now secure.
We have staff at Cairo airport, working around the clock to provide assistance to any British nationals who require it. We also have staff in Alexandria, Luxor and Sharm el Sheikh. They are providing very regular updates about the situation on the ground in these parts of Egypt and are staying in close touch with tour operators and British companies on the ground.
Additional staff reinforcements from London and the region have been sent to Egypt to help Embassy staff maintain essential services in these difficult circumstances. A 24-hour hotline is available for British nationals to call if they need assistance or advice and help is also available from the crisis response centre in the Foreign & Commonwealth Office.
I am sure the House will join me in recognising the hard work and dedication shown by all our staff, both in Egypt and London, in responding quickly and professionally to the unfolding events.
I would like to turn now to the political situation in Egypt.
The UK has major interests at stake in Egypt, which has played an important role as a regional leader, including in the Middle East Peace Process and as the largest foreign investor.
The scale of these protests is unprecedented in Egypt over the past thirty years. We have called on President Mubarak to avoid at all costs the use of violence against unarmed civilians, and on the demonstrators to exercise their rights peacefully.
In response to the growing protests, President Mubarak announced on 28 January that he had asked the government to resign. On 29 January, he appointed the Head of the Egyptian Intelligence Services, Omar Sulaiman as his Vice President and Ahmed Shafiq, most recently Minister for Civil Aviation, as Prime Minister. Further Cabinet appointments have been made today. However, demonstrations have continued and are now focused on a demand for President Mubarak to resign.
It is not for us to decide who governs Egypt. However, we believe that the pathway to stability in Egypt is through a process of political change, which reflects the wishes of the Egyptian people. This should include an orderly transition to a more democratic system, including through holding free and fair elections and the introduction of measures to safeguard human rights. This kind of reform is essential to show to people in Egypt that their concerns and their aspirations are being listened to.
We continue to urge President Mubarak to appoint a broad-based government which includes opposition figures and to embark on an urgent programme of peaceful political reform. We are also working with our international partners to ensure that these messages are given consistently and that technical and financial support for reform is available. The Prime Minister has spoken to President Mubarak and President Obama. The Foreign Secretary has spoken to Egyptian Foreign Minister Aboul Gheit, Secretary of State Hillary Clinton and EU High Representative Baroness Ashton over the weekend. He will also be discussing the situation in Egypt with EU colleagues at the Foreign Affairs Council today.
The situation in Egypt is still very uncertain. The safety of our citizens is our top priority. We are putting in place contingency plans to ensure that we are prepared for all eventualities.
Published 31 January 2011