World news story
Foreign Office Minister praises Singapore as the 'Smart City'
Mr Hugo Swire MP, Minister of State at the Foreign and Commonwealth Office, was in Singapore on 27 June 2013.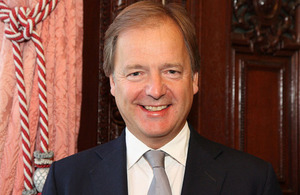 Mr Hugo Swire MP, Minister of State at the Foreign and Commonwealth Office, was in Singapore on 27 June 2013 to celebrate not only the UK and Singapore's historic relationship but the two country's growing partnership on innovation and technology.
Speaking in advance of his visit, Mr Swire said:
Building a strong relationship with Singapore is very important to the UK and I am delighted to be the third British Minister in 4 weeks to visit this remarkable city. There is so much that binds together but I'm particularly inspired by our newest area of co-operation – innovation for modern, sustainable city living.
During his one-day visit, Mr Swire called on Singapore leaders as well as meet members of the British business community here.
The UK is already the 3rd largest foreign direct investor in Singapore, after US and the Netherlands. 700 British companies are based here including well known names like GlaxoSmithKline, Rolls-Royce, Standard Chartered Bank, HSBC, Unilever and Shell. Four out of the five largest UK law firms have also set up offices in Singapore. Export of UK goods to Singapore rose 16% in 2012 and the UK remains the top destination in Europe for Singapore investment. Singapore is also popular with UK tourists with over 400,000 Britons visiting this city every year.
Prime Minister David Cameron visited Singapore in April 2012 as part of tour to underscore that 'Britain is Back' in Asia. The Duke and Duchess of Cambridge charmed the nation back in September 2012. In 2012 Department for International Development (DFID) Minister Alan Duncan visited Singapore on 4-5 December with over 20 UK companies on the first "Smart Cities, Smarter Living" regional trade mission. Members of the mission represented different aspects of "smart" technology that can be incorporated into the planning, design, operations and management of cities to improve the quality of life and increase sustainability. There were also high level visits earlier in June 2013 by the Defence Secretary and Trade Minister Lord Green.
Mr Swire was in Singapore as part of his visit to the region that included calls in Hong Kong and Kuala Lumpur.
He attended an award ceremony to present Chevening Scholarships to Singapore recipients, including presenting a Chevening Scholarship Award to Mr Karthigayan Ramakrishnan, the survivor of a serious fighter plane accident whilst a serving NS man in Taiwan who has become an inspirational fundraiser for other burns victims. The other Chevening Scholars who received their Award from Mr Swire were Ms Hetty Musfirah Abdul Khamid, Senior Reporter, Channel News Asia; Mr Teo Cheng Wee, Regional Correspondent, Straits Times; Mr Zhuang Kuan Song of the Centre for Enabled Living and Ms Ang Chye Peng of the National Environment Agency.
Chevening Scholarships are the UK government's global Scholarship programme and are funded primarily by the UK Foreign Office. At the award ceremony British insurance company Prudential and the British Alumni Singapore signed partnership agreements to support the Chevening programme in Singapore.
Further information
Published 26 June 2013