Foreign Office Minister honours anti-piracy Merchant Navy Officers
Foreign Office Minister Henry Bellingham congratulated 12 Merchant Navy Liaison Officers for their work against piracy at an event at the British Chamber of Shipping on Thursday 28 October.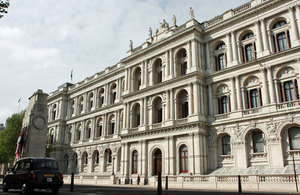 Henry Bellingham presented the awards in his capacity as the Foreign & Commonwealth Office's Minister with responsibility for counter-piracy issues and on behalf of the British Government.
He congratulated the Merchant Navy Liaison Officers for their ''professionalism and dedication'' and said ''co-operation between governments and industry is a vital part of our fight against piracy. We must continue to work together to keep the sea lanes open and trade flowing.''
In December 2008 the Merchant Navy Liaison Officer Scheme was established to assist European Union Naval forces interact with the needs of the merchant fleet. The scheme was established to support the efforts of European Union Naval Force's (EUNAVFOR) Operation Atalanta at its Headquarters in the UK. The Officers are seconded from their parent companies and organisations at no cost to the naval operation, a significant industry contribution to the success of the operation.
The UK's maritime sector is the largest in Europe with a turnover of over £56 billion. The sector employs approximately 410,000 people in the UK, with London being the world centre for maritime financial and legal services. Over 90% of the UK's visible trade moves by sea with the UK's maritime trade forecast to almost double over the next 15 years.
The UK government supports the shipping industry through protected group transits through the Gulf of Aden using the Internationally Recognised Transit Corridor, and providing advice to mariners through the Royal Navy manned UK Maritime Trade Operations office.
The UK government provide Operational Headquarters for the European Union's counter-piracy task force, as well as providing ships and other assets to North Atlantic Treaty Organisation (NATO) and Combined Maritime Forces operations. We prosecute pirates whenever there is a chance of success.
The UK and EU are also providing technical and financial support to Kenya, Seychelles and Somalia to support work in developing courts and prisons to accept more pirates.
Published 29 October 2010