Foreign Office Minister highlights Save the Children's report
On Universal Children's Day, Baroness Warsi highlights the report on sexual violence against children in conflict and stresses the importance of the Preventing Sexual Violence Initiative.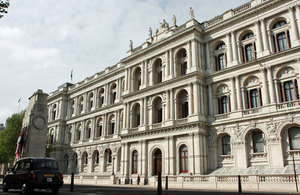 Foreign Office Senior Minister of State Baroness Warsi said:
"Today, on Universal Children's Day, I want to highlight the publication of Save the Children's important report on Hidden Survivors: Sexual Violence against Children in Conflict. This report, as well as the work carried out to raise awareness of these issues by other organisations such as War Child, make for sobering reading. The statistics are horrifying - for example, in the post-election crisis in Cote d'Ivoire between November 2010 and September 2011 children made up 51.7% of cases of sexual violence and in more than half of those cases the survivors were below the age of 15.
"Reports like this underline the importance of the Foreign Secretary William Hague's Preventing Sexual Violence Initiative and why we must use the UK's Presidency of the G8 next year to drive this issue to the top of the international agenda. Governments around the world must do more to tackle the culture of impunity that exists for these appalling crimes against women, men, girls and boys. We must also do more to shift the balance of shame away from the survivors to the perpetrators. As the Foreign Secretary has said we must match the courage of the survivors with a new common resolve to end the use of sexual violence as a weapon of war."
Published 20 November 2012