World news story
Minister Grant Shapps welcome initiatives by Malaga-Costa Del Sol Airport and Delpaso Car Hire to reduce lost and stolen passports
All visitors flying into Malaga Airport are now greeted by a moving banner on the digital screens when they go to baggage reclaim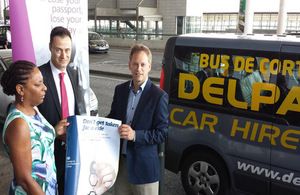 Foreign Officer Minister Grant Shapps today (Wednesday 29 July) attended the official launches of campaigns by Malaga-Costa del Sol Airport and Delpaso Car Hire to reduce the number of holidaymakers whose passports are lost and stolen whilst visiting Andalucia.
All visitors flying into Malaga Airport are now greeted by a moving banner on the digital screens when they go to baggage reclaim, warning them to look after their passports whilst on holiday.
And tourists renting a car from Delpaso Car Hire receive leaflets reminding them to keep their passports and valuables safe from the risk of roadside robbery.
The British Consulate in Malaga last year issued more than 1200 emergency travel documents (ETDs) to British tourists whose passports were stolen or lost whilst visiting Andalucia. Of these, nearly 300 were the result of car crime.
Foreign Office Minister Grant Shapps said:
We are really pleased to have the support of Malaga Airport and Delpaso Car Hire to get the message across to the millions of Britons arriving in Malaga every summer.
Losing a passport is a frustrating experience that costs valuable holiday time and money. We hope that by warning visitors as they arrive, we will reduce the number of holidays tarnished by a lost or stolen passport.
David Matthews, Director of Delpaso Car Hire, which last year rented cars to 8000 Britons and has 1,300 vehicles in its fleet, said:
The leaflets that we are giving customers are already having an impact. Since May when the campaign began, the number of car break-ins suffered by our fleet has reduced from 50 to 15 compared to the same time last year.
Published 29 July 2015