Foreign Office Minister "deeply saddened" by Marrakesh explosion
Minister for the Middle East and North Africa Alistair Burt has given a statement on yesterday's explosion in Marrakesh.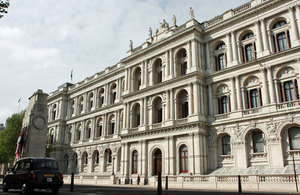 The Minister said:
"I am deeply saddened by yesterday's explosion in Marrakesh. We believe that a British National was amongst the 16 people killed. My thoughts are with their friends and families and all those affected by this distressing incident.
"We are in touch with next of kin and are offering them full consular support. An FCO Rapid Deployment Team arrived this morning to supplement our team in Marrakesh. They are co-ordinating closely with the Moroccan authorities including to determine whether other British Nationals could be amongst the victims.
"While we do not yet know the exact cause of the blast, reports from the Moroccan authorities are that this may have been a result of terrorism. An act of this kind, causing the death of 16 innocent people is cruel and wrong, and I condemn it in the strongest terms.
"The UK stands with Morocco during this difficult time. We stand ready to provide whatever support may be needed in forthcoming investigations, and will continue to support Morocco's important reform agenda."
Published 29 April 2011