Foreign Office Minister celebrates UK education and international collaboration
Foreign Office Minister Alistair Burt attended the Global Business Summit on Education at Lancaster House where international delegates gathered to explore how sport, science and technology can be used to encourage the next generation to study.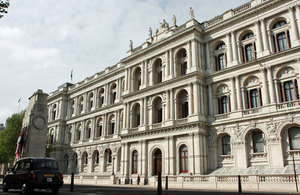 Speaking after the event the Minister said:
"The UK's education sector is a world leader. Today's event shows how committed the UK is to improving collaboration on higher education and research and development across the world. Through the Gulf Initiative, we are expanding educational links with Saudi Arabia, Qatar and others in the region. I am proud that every year tens of thousands of students from the Middle East and North Africa come to the UK to study. They do so because of our reputation for excellence and because the UK has some of the best, most enduring educational institutions in the world.
"Some of these universities have established campuses or partnerships across the region. This September, UCL will open its doors to welcome the first intake of students at its Doha campus and RADA has provided theatre and drama workshops in Doha with great success. In the UAE there are 10 UK institutions providing over 30 graduate and post graduate degrees. I hope that today's event will lead to further partnerships as we extend the International Education Advisory Forum and the business department's international education programme, which has supported the development of 26 higher education partnerships across the Gulf since 2006.
"I am also proud that education is a key part of the UK response to the Arab Spring. In Lebanon we are supporting reform of the education system to include the principles of tolerance, co-existence and inclusive citizenship, equipping future generations to hold government to account and demand a stronger state and better and fairer services. In Egypt and Tunisia, through the work of the British Council , we are also supporting training to improve youth employment by forging links between employers, education providers and policy makers. As countries across the region grapple with the challenges ahead, promoting education should be a crucial part of their response and one where the UK is perfectly placed to support them."
Published 1 August 2012