Foreign Office Minister accepts RSPB pledge on protecting wildlife in Overseas Territories
Overseas Territories Minister Henry Bellingham: "I am delighted to see that so many RSPB members are aware of the incredible biodiversity found in the UK's Overseas Territories, and share our recognition of its value."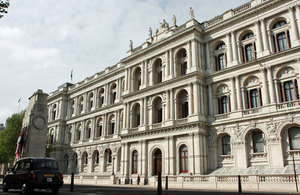 Overseas Territories Minister Henry Bellingham met representatives of the Royal Society for the Protection of Birds on Wednesday, and received a pledge signed by almost 17,000 of their members, asking the UK Government to ensure that the valuable biodiversity of the Overseas Territories is preserved.
The Minister welcomed the work that RSPB does in the Territories, with the support of the UK Government and in collaboration with Territory Governments. This work has included a recent programme to eradicate invasive rats which were eating the chicks of the endangered Henderson Petrel on Henderson Island in the Pitcairn Islands. Henry Bellingham and RSPB hosted an event with Sir David Attenborough last year to raise funds for that project.
Receiving the pledge, Henry Bellingham said: "I am delighted to see that so many RSPB members are aware of the incredible biodiversity found in the UK's Overseas Territories, and share our recognition of its value. I welcome this contribution to our ongoing consultation and we in Government look forward to continuing to work closely with the RSPB and other partners to help protect and conserve the rich biodiversity of our Overseas Territories for the future."
Published 30 November 2011