Foreign Office launches two films for London Fashion Week
London Fashion Week takes place from 17-22 February. In our two short films, fashion designers John Rocha and Louise Kennedy talk about finding creative inspiration in Britain.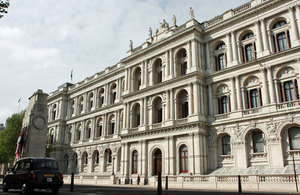 In the first film fashion designer John Rocha talks about how he came to Britain from Hong Kong with only a few pounds in his pocket and, inspired by the creative energy that he found all around him, went on to build a career in fashion design.
In the second film, Ireland's preeminent designer Louise Kennedy discusses how every aspect of fashion is represented in the UK and praises the British high street as the best in the world.
British creativity and entrepreneurship will be on show for all to see at London Fashion Week. British designers are adept at setting the trends that influence the fashion conscience globally - from the the creation of the Mary Quant miniskirt in the swinging Sixties to Jimmy Choo, perhaps the most coveted shoe in the world.
The UK's entrepreneurial culture and history of creative expression has not only fostered great British design talent, it has attracted many international designers. With a reputation for being edgy, bold and innovative, the UK is the destination of choice for many influential designers' flagship stores. London now has more major chain stores than Paris, Milan, Tokyo and Milan.
Published 17 February 2012