Foreign Office launches "Going for Green – Britain's 2012 Dream"
Foreign Secretary William Hague hosted the public premiere of our documentary film and launched the Public Diplomacy strategy for the London 2012 Olympic and Paralympic Games.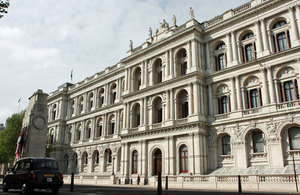 Lord Coe, Chairman of the London Organising Committee of the Olympic and Paralympic Games, joined the Secretary of State at the launch event for representatives of Parliament, business, commerce, Non-Government Organisations and the media.
"Going for Green - Britain's 2012 Dream" is a documentary commissioned by the Foreign Office, telling the amazing story of the 2012 Olympic Park build. Watch clips from the film below.
The film tells the story of how the Olympic Park is being built in an environmentally sustainable way, in accordance with the legacy objectives as set out in the original London 2012 bid. The film highlights British creativity and excellence in construction, as well as the cutting edge 'green' technology used for the build of the Olympic Park.
Speaking at the event, the Foreign Secretary said:
"This film shows just how breath taking and audacious the vision of London 2012 is: to stage the world's first sustainable Olympic Games. The film confirms our global leadership in low carbon technology, the creative industries, life sciences and advanced engineering and the raw talent of the British companies that have made it happen."
The Foreign Secretary talked about how the Olympics will bring the UK to the forefront of the global agenda and how the Foreign Office will work across the world to remind countries what is great about the UK. He said:
"This film and the work of the FCO shows the world that Britain is an ideal bilateral partner, a prime destination for tourism, trade and investment, an open, tolerant, modern and outward-looking society; a home for enterprise, wealth creation, opportunity and new ideas - one of the best places in the world to study, work and do business." Watch the Foreign Secretary's speech here.
Lord Coe also referred to the international dimensions of the Games, including engaging diaspora communities, the opportunities pre-games training camps will offer and high profile global projects such as 'International Inspiration. Watch Lord Coe's speech here.
'Going for Green - Britain's 2012 Dream' is already attracting considerable interest from international broadcasters. It has been screened at events worldwide, and forms a key piece of publicity for the use across Government.
Published 10 November 2010