Foreign Office history podcast remembers the 1991 coup and collapse of the Soviet Union
In the latest episode of the History podcast series, British Ambassador to the Czech Republic, Sian MacLeod, remembers her first posting as a young diplomat to Moscow.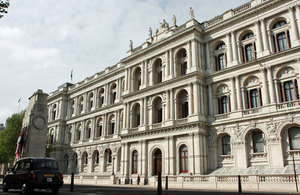 HMA Sian MacLeod recalls that the prospect of living in the Soviet Union was "exciting, but very daunting".
"We had no useable money. The rouble was not convertible and could not be bought abroad. And of course there were no mobile phones."
Two and a half years into her posting, on 19 August 1991, the world awoke to a shock.
"Gorbachev, the Soviet State radio said, was unwell and unable to perform his duties.
"Something was clearly wrong. By the time I rushed to the Embassy the Head of Chancery and duty officer were already compiling our first report."
HMA Sian MacLeod's account of events during August 1991 provides an insight into the varied and important work carried out by British Embassies.
You can download the podcast via RSS or iTunes, or listen below.
«div>
1991 coup and collapse of the Soviet Union by Foreignoffice on Mixcloud
Published 9 September 2011