World news story
Foreign Office grants aid to Bulgarian Border Police
The grant aims at helping Bulgaria's border control.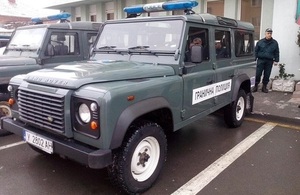 Catherine Barber, Deputy Head of Mission at the British Embassy in Sofia and Chief Commissioner Zaharin Penov, Director of Border Police signed a declaration granting aid to Border Police. The aid is in the form of 228 winter tyres at the amount of BGL 47,000 for the off-road vehicles patrolling the Bulgarian-Turkish border. 196 winter tyres are for the Border Police's Land Rover Defender vehicles and 32 - for the Nisan Pathfinder vehicles. The tyres have been purchased and fitted and are already in use.
Chief Commissioner Zaharin Penov expressed his gratitude and explained that currently all patrol vehicles were fitted for work in mountain conditions.
Catherine Barber, Deputy Head of Mission at British Embassy Sofia, commented:
Large scale migration can be a big concern for the country of destination. We understand this and stood ready to help Bulgaria when help was needed.
We are ready to support the Bulgarian authorities in their efforts to secure the border and, at the same time, protect those seeking asylum from the terrible events in Syria.
The Border Police continue to do a difficult job in difficult circumstances. I hope that this token of our cooperation will make that task a little easier and we will continue our excellent work with Border Police.
Representatives of the British Embassy visited the Local Co-ordination Centre in Border Police Svilengrad and got acquainted with the ways of communication between patrols for the detention of perpetrators.
Published 28 January 2014