Foreign Office budget savings
The Foreign Office has announced £55 million worth of savings as its contribution to the wider £6 billion in savings across Government.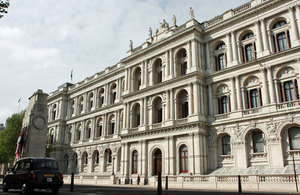 The savings will be realised by cutting waste and inefficiency and reducing lower priority programme spend. This includes savings through:
reducing spend on consultancy and support functions
more collaborative procurement with other departments with a presence overseas, such as DFID
increasing asset sales in less-used parts of the FCO's overseas estate
a review of the FCO's programme spend to be led by the Foreign Secretary.
The Treasury today outlined £6.2 billion savings in an effort to tackle the UK's record deficit in order to restore confidence in the UK economy and support the recovery.
Published 24 May 2010