Foreign Office appoints new Marshall Aid Commemoration Commission Commissioners
The four Commissioners started their three year term on 1 August 2010.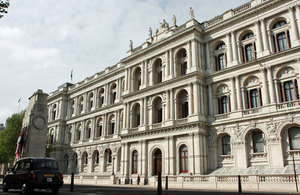 The FCO appointed Commissioners are:-
Professor Richard Dendy, Head of Theoretical Physics, UK Atomic Energy Authority
Dr Ruth Kosmin, former Head of European Economics, H M Treasury
Professor Eric Thomas, Vice-Chancellor, University of Bristol
Professor Nigel Thrift, Vice-Chancellor, University of Warwick
Commissioners serve for a term of three years, with the possibility of re-appointment for a second term. The appointment is unpaid.
The Marshall Aid Commemoration Commission is responsible for overseeing the British Marshall Scholarships programme, which was established in 1953 by an Act of Parliament.
The scholarship programme enables talented, young American postgraduate students to study at a UK institution and to develop an understanding and appreciation of the UK. Up to forty new scholars are selected each year. The scholars are identified as potential future leaders in the United States and as alumni they make an important contribution to the UK-US bilateral relationship.
The Foreign and Commonwealth Office gives the Marshall Aid Commemoration Commission an annual grant-in-aid, which is £2.2 million in 2010/11.
Published 9 August 2010