Foreign and Commonwealth Office comments on assertions about Scotland's position in the EU if it were to leave the UK
FCO spokesperson comments in response to suggestions that Scotland would automatically become part of the EU if it left the UK.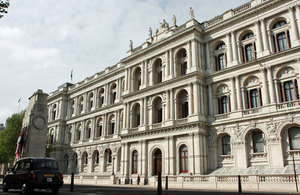 FCO spokesperson said:
"It is clear that the Scottish government cannot take for granted the idea that Scotland would secede from the UK but automatically stay in the EU. Decisions about EU membership need the unanimous agreement of all Member States. The most likely scenario would be that Scotland would have to join the EU as a new state, requiring negotiation with other Member States.
"The Scottish Government needs to be clear on the facts of what independence actually means in practice. The UK Government is undertaking its own detailed research into the benefits of Scotland's place within the UK, including membership of international organisations. These conclusions will be published in due course."
Published 12 September 2012