Press release
Forecast of more wet weather leads to ongoing flood risk
Environment Agency is urging communities to stay alert to the risk of further flooding.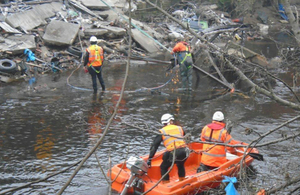 Environment Agency is urging communities in the south west, south, and north of England and the Severn Valley to stay alert to the risk of further flooding.
The Met Office forecast is for heavy rain to continue for some southern coastal counties of England on Wednesday (27 January) with the potential for further heavy rain in the north and south west of England on Friday (29 January) and Saturday (30 January).
Following Tuesday's rainfall there is an improving situation in Cumbria, Lancashire, Yorkshire and along the Severn and Wye. However, with a wet end to the week, the Environment Agency is preparing for possible further flooding in the north of England and along parts of the Severn and Wye on Friday and over the weekend.
There is a risk of flooding in some parts of Yorkshire today. The Environment Agency has operated the Foss Barrier this morning. The Ouse in York is expected to peak at significantly lower levels than those seen on Boxing Day.
Pumps and temporary flood defences are being deployed across the country. Demountable flood barriers are being put in place at Shrewsbury on the River Severn. In Cumbria, the Environment Agency has been carrying out work in the Ullswater valley to remove gravel and reduce flood risk.
Environment Agency flood warnings are updated every 15 minutes. People are urged to check their flood risk and roads if they are planning to travel.
Neil Davies, National Flood Duty Manager at the Environment Agency, said:
"More rain today and a wet end to the week means that communities in the north and south west should remain alert to the risk of flooding.
"Teams from the Environment Agency have been out preparing for more wet weather as we continue to support communities as they recover from the severe floods over Christmas after the wettest month on record.
"People should also be alert to high tides today, particularly around southern and western coasts, which can cause large waves and spray. We urge people to take care near coastal paths and promenades.
"People should check their flood risk and keep up to date with the latest situation by following @EnvAgency and #floodaware on Twitter for the latest flood updates. We urge people not to drive through flood water: just 30cm of flowing water is enough to move your car."
Published 27 January 2016