Forced marriage warning as summer holidays approach
In the early part of this year alone, Foreign Office staff working abroad were called upon to provide assistance in 46 cases of forced marriage.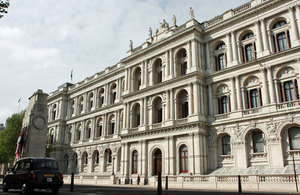 Over half of those cases (52%) involved 19-25 year olds and a third (33%) involved under 18s. The majority of cases involved females, but 15% of victims were male.
Summer holidays are the peak time for young people to be taken overseas and forced into a marriage against their will. In some cases they are taken on what they have been told is a holiday to visit family abroad, but in fact a marriage has been planned. Once abroad, victims are often even more isolated than they might have been in the UK and getting help is more difficult.
To raise awareness of the risks and the help available in the run-up to the summer holidays, three hard-hitting films have been developed. They remind young people to speak up if they think they or someone they are close to are in danger.
The public can show their support for the campaign by tweeting using the hashtag #RightToChoose
Foreign Office Minister Alistair Burt said:
"Forced marriage should not be tolerated. Young people have the right to choose whether to marry, who to marry, and when. Anybody worried that they or a friend are at risk of being forced into marriage abroad should seek advice before it's too late. There may be only one chance to save yourself or someone else from a life they did not choose."
Many young people feel scared to ask for help or take action about their concerns. The new Right to Choose campaign aims to stress that while it might be difficult to admit that you're at risk, forced marriage can and does happen and doing nothing is not the answer. The FMU wants young people and professionals working with them to speak out about forced marriage, and seek advice and help before potential victims are taken abroad.
Home Office Minister Lynne Featherstone said:
"Forcing someone into marriage is completely unacceptable, that is why the government is making it a crime. Everyone should have the right to make their own choices about their relationships and their future. But making it illegal is not enough on its own, so we are supporting work to protect victims. The Right to Choose campaign is another vital part of this and will help raise awareness of the damage being forced into marriage can do."
Joint Head of the Forced Marriage Unit Amy Cumming said:
"Every day in the unit we see the devastating impact forced marriage has on individuals. Many of the victims who contact us have experienced horrendous sexual and physical violence. They endure intense pressure in many forms - whether emotional, financial or otherwise. Forced marriage affects many communities and cultures. Today, I'm strongly urging people to back the Right to Choose campaign: don't leave it too late - call our helpline and get advice."
Published 12 July 2012