World news story
Football is GREAT!
From:

Part of:

Published:

9 September 2013

Last updated:

17 December 2013, see all updates
This was published under the 2010 to 2015 Conservative and Liberal Democrat coalition government
Football - Ambassadors of Peace in Moldova.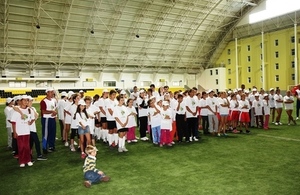 Ms Amy Sherwood the Deputy Head of Mission, accepted an award on behalf of the British Embassy Chisinau from Mr. Pavel Cebanu, President of Moldovan Football Federation, at the annual footballer of the year awards ceremony for 2013, which took place on 15 December at Opera Theater in Chisinau.
The award was in recognition of the Embassy's pioneering Ambassadors of Peace football project which brings together young people from across Moldova, including from the Transnistrian region and from Gagauzia, to learn about tolerance, respect and diversity through the universal language of football.
From 5-7 September 2013, during the week of the FIFA World Cup qualifying match at Wembley, between England and Moldova, the British Embassy Chisinau, the Moldovan Football Federation (FMF), and the Spirit of Soccer NGO delivered the 5th edition of 'Football: Ambassadors of Peace' project.
The project aims to develop child protection policies and practices, as well as to advance coaching methodologies for women's football in Moldova. For the first time, our project also promoted social inclusion of children with disabilities involving boys and girls from the Special Olympics Association.
The project involved a one-day workshop for 12 coaches held at the FMF's national training centre in Vadul lui Voda on 5 September, followed by two days of a Football Festival at the same venue and at Sheriff Football Centre in Tiraspol. Teams of girls U14 from all across Moldova, including Transnistria and the autonomous territorial area of Gagauzia (120 children in total) took part in the festival.
In his speech at the opening ceremony, Mr. Phil Batson, the British Ambassador to the Republic of Moldova, underlined the importance of social inclusion of people with disabilities, reminding the participants that this is one of the legacies of London 2012 Olympic Games.
Spirit of Soccer, a partner of FIFA's Football For Hope programme, has designed and implemented five previous projects that brought together children from both banks of the Nistru, as well as addressing the issues of child protection and gender equality.
Document information
Published: 9 September 2013
Updated: 17 December 2013
Follow up information to the initial document.
Added translation
First published.