World news story
Football is gateway to fulfilling dreams for Muskaan and Nita
At OSCAR foundation, these girls from lower socio-economic communities of Mumbai and Jharkhand take pride in how they 'Kick like a girl'.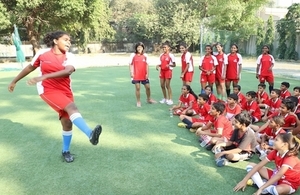 It is 20-year-old Nita Kacchap's first time in Mumbai, her first time outside Ormanchi district of Jharkhand. She has three siblings who never left Jharkhand because they could never afford to. Nita has managed to defy all odds- of poverty, restrictions on education and the possibility of being married off early- so she can play football.
Speaking ahead of the programme, Nita said:
The villagers made fun of us, mocked us saying how can girls wear shorts, how can girls play a boy's game of football. I wondered how I could do something that would change the mindset of villagers.
As a young leader, training with the Mumbai-based charity, OSCAR Foundation (Organization for Social Change, Awareness and Responsibility) Nita has now been playing football for two years and besides the new confidence, she has become a role model for young girls in her village.
Nita said:
Football has changed my life. My family and villagers initially pressurised me about getting married. Now they see how serious I am about pursuing my education.
The OSCAR Foundation with support from the British Deputy High Commission, through the 'Kick like a girl' project aims at empowering adolescent girls from the lower socio-economic communities in India by helping them identify & challenge gender disparities through football. The project this year through training sessions in November 2017 and in January 2018 will help 90 girls from marginalised communities across India to challenge gender disparities through capacity-building programmes.
The British Deputy High Commission Mumbai has supported OSCAR's capacity-building programme since 2016. In its second year, the training modules included young girls from Jharkhand, Mumbai, Thane and adjoining areas. Starting with training 50 adolescent girls, OSCAR has doubled their outreach to over 100 adolescent girls this year using personality development, reproductive health, team building sessions to give them a broad understanding of how education can help improve their lives.
Muskan Singh, from Colaba's Ganesh Murtinagar Nagar aspires to be a Company Secretary and a Football or Kabbadi coach. The 16-year-old has 3 siblings and her family had to choose who stays in school and who doesn't. Muskan protested when her father decided she had to stay home and help her mother with chores instead of studying beyond class 10.
Talking about the programme, she said:
I found out about OSCAR through other kids in my colony. I knew I had to be a part of this training. Football has given me a sense of purpose. I now feel confident to question decisions that directly affect me.
Each workshop involves a six-day residential training programme that will be held at the YMCA Colaba branch from 10 to 15 January 2018.
Under the overarching theme of women empowerment, programme participants will be trained in four areas:
leadership and personality development
effective communication
citizenship (rights and duties)
management of action/change at the community level
Further information
OSCAR Foundation is a non-profit organization that, through football, instils the value of education and empowers underprivileged children and youth with life skills to take responsibility of their community development. Ashok Shankar Rathod along with two other founding members, started the OSCAR Foundation in 2006.
Media
For media queries, please contact:
Prachi Jatania
Head of Press and Communications
British Deputy High Commission, Mumbai
Tel: 91 22 6650 2235 | M: +91 7045497517

Mail to: Prachi Jatania
Follow us on Twitter, Facebook, Flickr, Storify, Eventbrite, Blogs, Youtube, Instagram, Snapchat @UKinIndia, Periscope @UKinIndia
Published 10 January 2018