World news story
Food Fortification programme launched in Punjab, Pakistan
Pakistan's Food Fortification programme (FFP) was launched in Punjab by the Head of the UK's Department for International Development (DFID).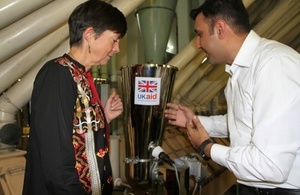 The launch ceremony was held in Lahore to celebrate the start of edible oil and ghee and wheat flour food fortification in Punjab.
Joanna Reid, Head of DFID Pakistan, visited the Data Flour Mill to inaugurate the equipment. A delegation of Punjab government, British High Commission and FFP officials also attended the ribbon-cutting ceremony.
Speaking at the event, DFID head Joanna Reid said:
The UK is committed to working with Pakistan to tackle the nutrition emergency. Over 37 million Pakistanis are not getting enough food and this hits women and girls hardest. Vision 2025 is the Government's pledge to make nutrition a priority – it matters for the health of the nation and for Pakistan's future prosperity.
The UK has started FFP to improve nutrition in Pakistan. This includes the fortification of wheat flour and edible oil and ghee across Pakistan starting in Punjab. The FFP aims to improve the production, access and consumption of wheat flour fortified with iron, folic acid, vitamin B12 and zinc, and edible oil and ghee fortified with vitamins A and D.
Addressing the ceremony, Food Minister Bilal Yaseen said:
I can assure you that food fortification programme is an excellent initiative for our province and we pledge complete support of the Punjab government and the Punjab Food Authority for the programme. We are on the roadmap to effectively reduce malnutrition in Pakistan in partnership with DFID.
The programme is being implemented by Mott MacDonald and Nutrition International in collaboration with key government departments at national and provincial level and with industry associations including the Pakistan Flour Mills Association (PFMA) and Pakistan Vanaspati Manufacturers Association (PVMA).
The FFP is contributing to UK's aim of improving access and consumption of sufficient, nutritious and safe food for women of childbearing age and children to improve nutritional status in Pakistan.
Contact
Press Attaché
British High Commission
Islamabad
Tel. 051 201 2000

More Information
For updates on the British High Commission's 70th Anniversary of UK – Pakistan relations and for more information on the Chevening programme, please follow our social media channels:
Published 20 October 2017