Food: British charities launch drive to end hunger
More than 100 British aid agencies launched a major campaign to tackle hunger around the world today, with a new report that details the scale of the problem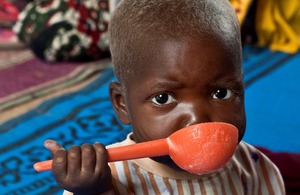 Prime Minister David Cameron's message to the IF campaign
Development Secretary Justine Greening will today speak at the Parliamentary launch of the Enough Food for Everyone IF which highlights the persistence of global hunger, despite recent progress in reducing poverty worldwide.
Speaking ahead of the launch she said:
"Britain is leading the fight against global hunger and will continue to do so in 2013. We will use a major event before our G8 summit to drive further global action to reduce hunger and malnutrition. We will also drive forward progress on the G8 New Alliance for Food Security and Nutrition.
"It is not acceptable that in 2013 that there are still nearly a billion people globally who are hungry or malnourished, that is why we welcome this campaign on food. With the added momentum that the IF Campaign will bring, I hope that together we have a real chance to eradicate world hunger."
The campaign warns that hunger and malnutrition in childhood could trap almost 1 billion young people in poverty by 2025 and that today in 2013, one in eight people still go to bed hungry every night.
It also addresses the ongoing economic impact that malnutrition could have on the developing world if the problem is left unchecked, costing an estimated £78 billion over the next 15 years in lost economic output.
Campaign film from Enough Food For Everyone IF
The campaign follows the UK's lead in putting the spotlight on child hunger last summer. Prime Minister David Cameron called on the international community, charities and businesses to help reduce the number of stunted children by 40% by 2025 - a global target agreed by the World Health Assembly.
Britain has set out its approach to tackling undernutrition up to 2015. UK aid will focus on increasing the reach of direct interventions that are known to work - such as a tackling vitamin deficiency - as well as building nutrition strategies into its wider work across agriculture, health and education.
UK aid is also focussed on supporting poor farmers to feed millions of people in the years ahead, through innovative technology, research and private investment including projects that:
Published 23 January 2013