News story
'Focus on Enforcement' - opportunity for chemicals sector to comment on the way COMAH regulations are enforced
Business and Enterprise Minister Mark Prisk said: "Focus on Enforcement will give businesses in the chemicals sector the chance to make a…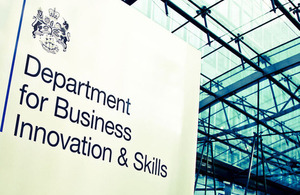 Business and Enterprise Minister Mark Prisk said:
"Focus on Enforcement will give businesses in the chemicals sector the chance to make a real difference to the way compliance and protection is achieved on COMAH sites, shaping how companies can best work with regulators in a successful and cost-effective way.
"I want companies in this area of business, and those that advise and assist them, to visit the website, to tell us their views and suggest how we might reduce enforcement burdens and share best practice. This is your chance to make a real difference to the way these regulations are enforced."
Welcoming the review, Peter Newport, CEO of the Chemical Business Association, said:
"Moving towards smarter enforcement follows naturally from policies designed to develop smarter regulation. We are keen to see the review explore how the burden and costs of regulatory compliance can be reduced. We are also keen to see progress towards formal earned recognition for COMAH sites which supplement regulatory requirements through established industry standards - an approach which could deliver significant operational savings both for business and for the regulatory authorities concerned."
Focus on Enforcement also gives businesses in other sectors the chance to make a real difference to the way regulators do their work in their area. If you are in a different business sector and would like to suggest we look at how enforcement in your area of business could be improved, please go to the website and make a suggestion.
Suggestions for areas needing examination will guide Ministers in prioritising a series of reviews to identify the source of the problem and propose action to address it.
Notes to editors:
The Chemicals (COMAH) theme, which is the second review theme to be launched, is now live on the Focus on Enforcement website and can be found at: http://discuss.bis.gov.uk/focusonenforcement. The site gives businesses the opportunity to suggest areas for review of compliance and enforcement arrangements, and to provide evidence on areas 'in focus'. A review covering smaller food and drink manufacturers is already underway, and another looking at volunteer events will follow later in May.

This aspect of the chemicals sector was chosen for review because it was raised as a priority during the Government's consultation on enforcement launched in June 2011. There are around 1,000 businesses of varying sizes in the UK affected by enforcement of COMAH regulations. The review will focus on the sub-set of the sector that deals with chemicals manufacturing and storage, and is covered by enforcement activity in England and Wales.

The focus of these reviews is on the way regulation is delivered and compliance is achieved - whether through inspections, advice or enforcement - not about the regulations themselves. A separate initiative - Red Tape Challenge - invites the public, business and the voluntary and community sector to give their views, comments and ideas on what regulations should stay, be improved, or be scrapped altogether.

The Focus on Enforcement website, for the first time, provides details on national regulators, their remits and regulatory budgets and staff resource in one place and information is also provided on regulatory functions undertaken by local authorities. (A large number of organisations play a part in securing compliance with the law. They include national regulators, local authorities, and bodies independent of Government, some of which have statutory regulatory functions. The list on the website is not exhaustive and details will continue to be added and updated).

The scope of the chemicals sector review of enforcement will cover:
Regulatory activity in respect of the Control of Major Accident Hazards (COMAH) regulations in the chemicals sector

Regulatory activities where COMAH regulation has consequential or 'knock-on effects'.
However, the scope will exclude:
Compliance and enforcement activities that do not take place as a direct or indirect result of COMAH, or are not in some way affected by COMAH - unless they are examples of good practice that could have wider application to other regulated areas

Regulatory activity that is not particular to the chemicals sector, such as employment and company law.
'Regulatory activity' in this context includes action taken by national regulators or officers of local authorities, including but not limited to:
provision of advice on compliance with the law

inspections of locations or equipment in order to satisfy regulatory authorities of compliance with the law

requirements to make formal applications, or provide information

handling of emergency planning

requirements to attend courses / obtain particular qualifications

enforcement proceedings taken against individuals or organisations in the event of failure to comply with regulations (we cannot consider comments on specific cases unless all proceedings have finished - but we can consider general evidence in relation to enforcement proceedings)
The review will also seek to identify examples of effective, tailored and easy to understand guidance and advice for businesses, and good regulatory delivery that is risk-based, focused on achieving compliance and supporting business growth.

BIS's online newsroom contains the latest press notices, speeches, as well as video and images for download. It also features an up to date list of BIS press office contacts. See http://www.bis.gov.uk/newsroom.
Notes to Editors
Contact Information
Name BIS Press Office Job Title
Division Department for Business, Innovation & Skills Phone
Fax
Mobile
Email bispress.releases@bis.gsi.gov.uk
Name Aidan Steer Job Title
Division Department for Business, Innovation and Skills Phone 020 7215 5245 Fax
Mobile
Published 8 May 2012