Press release
Floods destroy: be prepared!
As winter approaches, the Environment Agency is urging people across the West Country to be prepared for possible flooding.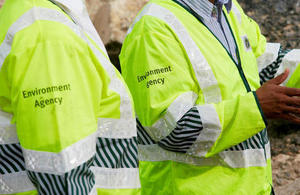 Last winter was the wettest for nearly 250 years and around 6,000 properties flooded across the country. Among the worst hit was Somerset, where, in some areas, people were evacuated from their homes and whole communities suffered major flood damage and disruption.
One in 6 properties in England is at risk of flooding. This figure is only going to increase with climate change. Many people think flooding will never happen to them, but it could. Now is the time for families to check whether they are at risk and make sure they are prepared.
Today the Environment Agency has launched a 2 week national flood action campaign entitled 'Floods destroy – be prepared'. From today until 16 November residents and local businesses are being encouraged to take a series of simple steps to protect themselves, their families and homes.
The three most important steps are:
use the Environment Agency's maps to find out if you are at risk of flooding
sign up for free flood warnings in your area.
prepare a personal flood plan
Alternatively, you can obtain help and advice by calling Floodline 0345 988 1188 or 0845 988 1188 or go online to find out more about how to prepare for a flood through Facebook, Twitter #floodaware or YouTube.
In Devon and Cornwall the Agency has made some significant improvements to its flood warning service. More than 2,500 families and businesses along the north and south coasts of Cornwall will now receive more targeted tidal flood warnings and fewer false alarms thanks to an increase in the number of flood alerts and flood warning areas.
A further 4,000 customers and professional partners will receive more accurate and timely river flood warnings thanks to improved monitoring and forecasting in 11 areas across Devon and Cornwall including the River Lemon at Newton Abbot, the Rivers Exe and Culm at Stoke Canon, the River Otter catchment, River Cober at Helston and River Fowey from Trekievesteps to Lostwithiel.
For the first time, The Isles of Scilly will receive a flood warning service. The local community will receive Environment Agency warnings through the Islands' emergency responder's forum via social media.
Published 3 November 2014