Press release
Flood sirens to be tested in Grimsby and Cleethorpes
The Environment Agency will be carrying out annual testing of its flood warning sirens in Grimsby and Cleethorpes next week.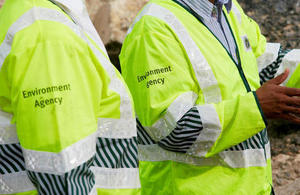 It has 18 flood warning sirens to warn residents of tidal flooding from the Humber. The sirens were installed in 2006 and are used to warn more than 25,000 households and businesses about imminent tidal flooding.
The siren on the Willows Estate, Grimsby is also used to warn residents about flooding from the River Freshney.
The sirens will be tested on Friday, 29 August between 10am and midday. Each group of sirens will be sounded 3 times for between 2 and 5 minutes. The siren will be followed by a voice message to advise a test is taking place, then a voice message will be heard giving a Severe Flood Warning. Once the message has finished, a wailing noise will be made and a message to confirm a test has been carried out will be played.
Anyone who hears the sirens between 10am and midday does not need to take action. If the Environment Agency expects flooding during the testing, it will use Floodline Warnings Direct to warn businesses, while local radio stations will broadcast the latest information.
Environment Agency staff will be in the Fresheny Place Shopping Centre on Thursday 28 August from 9am to 5pm to answer questions about the sirens and flood risk. Information will be available to advise people how to prepare for flooding and what actions they need to take when they hear the sirens.
Claire Rose, Flood Resilience Team Leader, said:
Our flood defences reduce the risk of flooding to thousands of homes and businesses in Grimsby and Cleethorpes, but there is always a risk that they can fail or be overwhelmed.

It is important people know what to do before, during and after a flood and identify actions they can take to protect themselves and their property. We'd love people to come and see us in Freshney Place to learn more about flood risk and what they can do to help themselves.

It is important we test the sirens to make sure they will work during an emergency but we would like to apologise for any inconvenience the testing may cause.
For more information about flood risk call Floodline on 0345 988 1188 or visit www.environment-agency.gov.uk
Notes for editors
The 18 sirens are located at:
Blundell Park (Grimsby Town FC), Freshney Place shopping centre, Nelson House, People's Park, Grant Thorold Park, Sidney Park, Allotments adjacent to Kelham Road and Algernon Street, WIllows Primary School, Littlecoats Primary School, South Parade Junior School, Waterworks Cottage Lane, Edward Heneage Primary School, Reynolds Junior School, Old Clee Junior School, Cromwell Road/Boulevard Avenue, Park Street, Augusta Close.
Published 27 August 2014