Press release
Flood risk work to start in Leicester
On Monday 22 September, the Environment Agency and Leicester City Council will start work to help reduce flood risk in Leicester.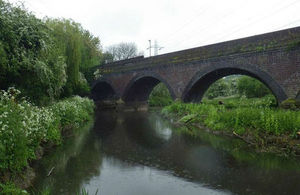 The work will take place on a section of the River Biam near the Great Central Way and will remove a build up of silt from the 2 southernmost arches of the Biam Bridge. This is part of the first phase of Leicester's flood risk management scheme and is expected to last for 6 weeks.
Work will involve lowering the ground level beneath the arches by about 1 metre, which will help reduce the risk of flooding to about 250 homes in Braunstone Town and Aylestone. The footpath from Braunstone Lane East under the Great Central Way bridge to the Great Central Way spur will be closed for 5 days between 22 September and 10 October during the works. The exact closure dates are weather dependent and will be signposted nearer the time.
The Great Central Way footpath and cycle path will remain open as normal, and access to the route from the eastern side will also be unaffected. Great Central Way can also be accessed from Braunstone Lane East and Evesham Road as normal.
Aylestone Meadows nature reserve and Riverside Park will not be affected.
Further works along the River Soar corridor are planned for 2015.
Leicester City Mayor Peter Soulsby said:
This is part of the ongoing work being carried out in the city to ensure our flood management is up to the challenges posed by climate change and demands of a modern-day city.
We're currently consulting on a flood alleviation plan for the city, and investing in tackling some of the main problem areas. The work at the bridge will lessen flood risk across a wide area of the city.
Jon Vann, the Environment Agency's lead on the project, added:
Together with partners in Leicester City Council, we're developing a holistic approach to reducing flood risk for the local community, as well as delivering economic and environmental benefits.
We will do everything possible to minimise any disruption and will put the safety of the public at the heart of our project.
More information about the scheme is available on the Leicester flood risk management scheme webpage.
Published 18 September 2014