Press release
Flood recovery trailer visits towns across Warwickshire
Residents across Warwickshire are encouraged to be better prepared for flooding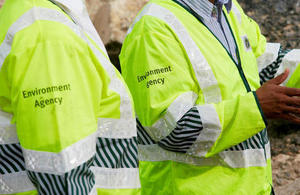 Using a specially adapted trailer, representatives from the Environment Agency, National Flood Forum and Warwickshire County Council will be holding a series of drop-in events across Warwickshire to talk to residents and local businesses about the risk of flooding in their communities.
The events will run from Monday 9 March to Friday 13 March, between 11am and 6pm in the trailer at the following locations:
Polesworth, Grendon Road (North Warwickshire Borough Council Car Park) B78 1HA on Monday 9 March
Nuneaton Sainsbury's Car Park, Vicarage Street, Nuneaton, CV11 4XS on Tuesday 10 March
Rugby Sainsbury's Car Park, 385 Dunchurch Road, Rugby, CV22 6HU on Wednesday 11 March
Waterside, Stratford upon Avon, CV37 6BB on Thursday 12 March
Homebase Car Park, Myton Road, Royal Leamington Spa, Warwickshire, CV31 3NY on Friday 13 March
At each event visitors will be given flood advice and the opportunity to ask questions, as well as hints and tips on how to prepare and what actions to take when flooding occurs.
Warwickshire has a history of flooding, with approximately 11,000 properties at risk of river flooding. Large parts of the county were affected by flooding in winter 2012.
Rob Lunt from the Environment Agency said:
Areas of Warwickshire are at risk of flooding. Although we can't prevent flooding entirely, we can help communities become more prepared. I would encourage people to come and talk to us about what to do before, during and after a flood.
Naomi Gibson of the National Flood Forum added:
Flooding has a terrible impact on people's lives, often long after the flood has gone. But there are things that people can do to reduce the risks for themselves and their community. This is a great opportunity to find out more.
Cllr Les Caborn, Warwickshire County Council's Portfolio for Community Safety, said:
These events are crucial to continue to raise awareness of risk flooding poses to many homes and business in Warwickshire.
Floods can damage or destroy your home and business, knowing your flood risk is the first step to protecting your family and property. In many areas of Warwickshire affected by river flooding we are able to provide specific flood warnings. To check if you are at risk from flooding and register for this service visit https://www.gov.uk/prepare-for-a-flood or call floodline on 0345 988 1188.
Published 24 February 2015