Flood insurance agreement reached
Defra and Association of British Insurers reach an agreement on flood insurance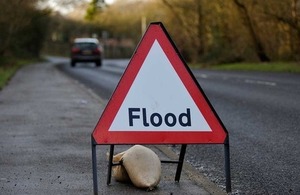 Hundreds of thousands of households in flood-prone areas will be guaranteed affordable flood insurance after the government and insurance industry agreed a deal today.
After negotiations with the Association of British Insurers (ABI), this new agreement replaces the current 'Statement of Principles' that runs out at the end of July and will bring peace of mind to people who will soon need to renew their insurance.
The new agreement will cap flood insurance premiums, linking them to council tax bands so that people will know the maximum they will have to pay.
To fund this, a new industry-backed levy will enable insurance companies to cover those at most risk of flooding. All UK household insurers will have to pay into this pool, creating a fund that can be used to pay claims for people in high-risk homes.
Environment Secretary Owen Paterson said:
Flooding is terrible for anyone affected by it. We have worked extremely hard with the industry to reach an agreement on the future of flood insurance. There are still areas to work through but this announcement means that people no longer need to live in fear of being uninsurable and that those at most risk can get protection, now and in the future.
Otto Thoresen, the ABI's Director General, said:
Insurers' priority has always been to ensure that flood insurance remains affordable and available for everyone who needs it. Today's announcement is the start of a process that aims to deliver affordable flood insurance to high flood risk households.
Getting to this stage has required compromise by both sides and there remain issues that need to be overcome. For Flood Re to be established successfully there needs to be an unprecedented level of partnership between the government and the industry. But insurers and the government are now working towards a shared vision, with Flood Re as the government's preferred choice.
Flood Re would be a major undertaking for UK insurers and the work insurers have undertaken to get here reflects the industry's desire to cover flood risk at an affordable price in the face of the increasing flood threat in the UK. The hard work now begins for both sides if we are to make this vision a reality
The proposals will be given legal backing through the Water Bill, published later today, and will last for at least the next 20 years. Until the Water Bill has passed through Parliament and Flood Re is set up, the industry will continue the current agreement – the Statement of Principles.
In addition, to help keep flood insurance affordable in the long-term, Defra will continue to invest in flood defences and has provided a six-year long-term commitment to provide £370 million of capital investment in 2015/16 rising with inflation until 2020/21.
The investment means that over 300,000 more households will be better protected by 2021, bringing the overall risk down and helping to secure affordable insurance for people long-term.
The government is currently spending £2.3 billion on flood defences meaning that 165,000 homes will be better protected by 2015.
New measures will also be added to the Water Bill that will be published later today to give government legal powers to regulate the insurance industry, if needed, to keep flood insurance affordable.
We are currently consulting on the government's preferred approach to the future of flood insurance.
In addition to the flood insurance clauses, the proposals set out in the bill today will also reform the water industry to make it fit for the 21st century. It will create new laws to increase drought resilience, drive growth and employment, as well as give businesses more choice and flexibility.
For the first time, we will open up competition in the water market to allow all businesses, charities and public sector customers to switch supplier. This, along with other proposals in the bill, will benefit the economy by £2 billion over the next 30 years.
Environment Secretary Owen Paterson said:
We need to address growing pressure on our water resources. These reforms will make the sector more resilient and help us build a stronger economy.
Creating a modern customer-focused water industry is crucial. We have listened to businesses who want more choice, and our new measures will give them the freedom to switch supplier and find a more competitive deal.
Through the Water Bill, the government is introducing new changes that will:
Place water supply resilience at the heart of decision making in the water sector
Help join up the national water network, by making it easier for water companies to buy and sell water from each other
Increase competition and encourage new entrants to the market who can offer alternative sources of water or innovative ways of treating sewerage
Water UK Chief Executive Pamela Taylor said:
Increasing resilience is essential if we are to continue to provide our customers the services they depend on. Water companies will continue to work with all stakeholders to deliver the government's goal of a sector that is more resilient, supports long-term growth and jobs in the UK and gives businesses, charities and public sector customers a choice of supplier.
Evidence from Scotland, where business customers already have the freedom to choose supplier, shows that it creates an incentive for companies to help customers reduce their water consumption. This is good for both the environment and the economy. The public sector in Scotland is forecast to save £25 million over three years, thanks to this approach.
There will be also be significant gains for businesses with more than one premises, who could save thousands of pounds in administration costs by dealing with only one water company.
Published 27 June 2013